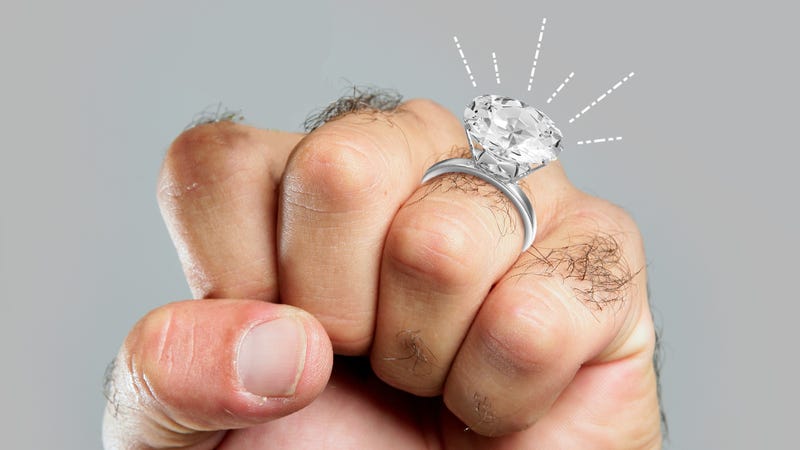 I've never understood why men don't wear an engagement ring. Actually, scratch that: I understand why they didn't wear them in the past, when marriage was but the economic chess move of a lady, any lady from her Father to Some Other Dude. But Things Have Changed ™ so it's high time the lady-only engagement ring goes the way of the hetero-dodo and men announced their cordoned-off status for all to see immediately upon engagement.
Over at the Atlantic, Samantha Zabell looks at the history of the mangagement ring (only five percent of dudes wear them now), and proposes on bended knee that the time could be right for bringing it back. Back, you say? You mean, this isn't new? Nosirree. In 1926, companies (such as an early incarnation of Macy's) actually tried to lure men off the market with an identifiable piece of bling, but it didn't take.
The ads, which ran in East Coast newspapers, featured black and white photos of a man's left hand, a cigarette resting between the first two fingers and a large rock flashing on the fourth. The rings even had ultra-macho names: the Pilot, the Stag, the Master. But these campaigns were unable to overcome the ingrained femininity of the symbol, and the movement flopped.
Bummer. But that was then, and now, a series of happenings have aligned which make the mangagement ring more likely to catch on.
Marriages are More Equal Than Ever
So we keep hearing. Nearly 80 percent of young women (under 30) support equal marriage with dual earners, and shared responsibilities (and, it should always be said, most families require two earners now anyway), notes Zabell. This is one reason that has sparked jewelers to revisit the mangagement ring of late: If two people can wear the pants, they sure as hell can both wear the ring.
The Current Practice Is Totes Retrograde
Sure, it's tradition, but why should this particularly imbalanced aspect of it still stand? If the engagement ring indicates off-the-market status out in the world, then we're still comfortable saying that only other men need to know which gals are taken? This might have made sense when only men did the approaching and courtship initiating — see a ring, move on. But if more women are approaching men for dates or other fun adults activities, why shouldn't they have the same visual cues for when a guy is not available? (Yes, not everyone wears an engagement ring OR even a wedding ring, and awkwardness ensues, but such is the nature of approaching strangers. No one needs color bands.) I assumed that men were always wearing wedding bands upon marriage, but GET THIS SHIT: Men didn't even wear wedding bands until the 1940's or '50's! That means for even longer than we thought, dudes could act as married as they felt like without a tan line on their ring finger betraying them in the slightest. Not cool.