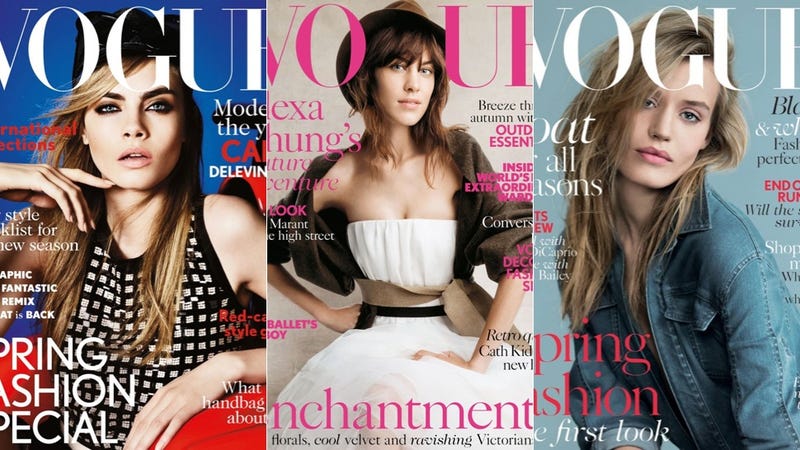 Alexandra Shulman, the editor of British Vogue, is so bored of people asking her why models are unrealistically thin.
In an interview on BBC Radio 2, Shulman trotted out a particularly ineffective and tired defense of the magazine's dogged insistence on continually featuring thin models and cover stars:
"People always say 'why do you have thin models? That's not what real people look like' But nobody really wants to see a real person looking like a real person on the cover of Vogue.

"I think Vogue is a magazine that's about fantasy to some extent and dreams, and an escape from real life.

"People don't want to buy a magazine like Vogue to see what they see when they look in the mirror. They can do that for free."
She added, "I get fed up with having to deal with the question of why are models thin, that sort of bores me."
As I've said before, the idea that fashion is "aspirational" doesn't absolve the industry of responsibility for the (very unrealistic) ideals it validates and upholds. To claim that Vogue caters to a fantasy without addressing the way in which Vogue is directly responsible for establishing and perpetuating that fantasy is extraordinarily misleading. Beauty standards, desires and fantasies don't exist in a vacuum: they're socially constructed. You don't exit the womb thinking that the thin, "conventionally" attractive, overwhelmingly white faces adorning fashion magazines are ideal — that specific beauty "aspiration" is something you absorb and internalize after being exposed to it for years. For a Vogue editor to proclaim, "Hey, sorry, that's what people want!" is intentionally naive — such a statement falsely implies that whom the industry decides to celebrate has no bearing on what we, as a culture, think is beautiful.