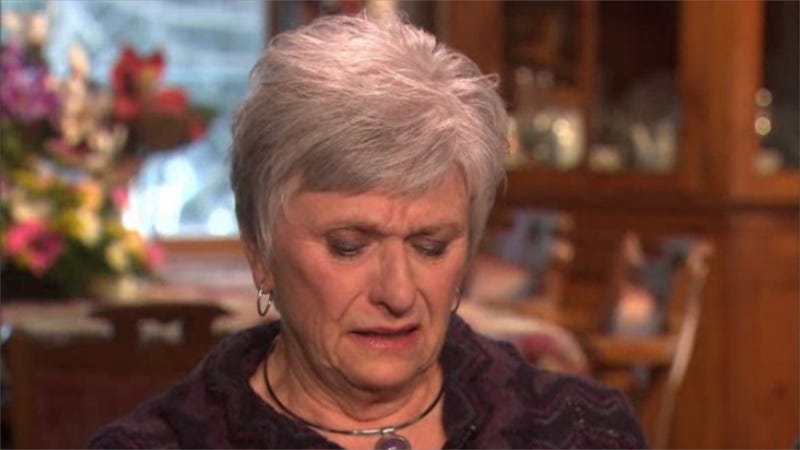 In a 50 minute interview with Matt Lauer that aired on Today Wednesday morning, Jerry Sandusky's wife Dottie vigorously defended her husband, describing in detail how his conviction has changed their lives and repeating numerous times that they are not lying about his innocence. "He would have admitted to this if he had done what they have said he has done," she said.
With a quavering voice and struggling with tears, Dottie described Sandusky's current situation in prison, arguing that there are alternative imprisonment situations he could be put in that wouldn't leave him locked up in a cell alone "23 hours a day." She said that many of their friends have stuck by the family, but that those who work for schools or are affiliated with The Second Mile charity have been required by their jobs not to speak with them. She also referenced several young men the family met through Second Mile that still speak with them, as if to support her claim that those who testified against her husband were "manipulated" into doing so.
Lauer spoke softly, but was firm and tough with Dottie. He asked her whether she had ever asked to her husband whether the charges against him were true. She said that she had, but that he had denied them:
Do you completely believe your husband or do you have any doubts about the veracity of what he's told you?

Explain that.

Do you believe everything your husband has told you? Do you believe your husband has told you the complete truth with regards to the charges that were leveled against him?

Do I believe him? I definitely believe him because if I didn't believe him because when I testified at trial I could have not said what I said.
"I have known Jerry for 38 years. We've been married for 37. We've always been truthful with each other. And he is not guilty of these horrific crimes that he has been charged with," said Dottie.
Dottie's explanation for why so many victims testified against her husband is that they were coerced into doing so and that they wanted money. She spoke against her son Matt, who she and Jerry adopted, alleging that Matt has sold some of their things on eBay because he has financial problems. Dottie says Matt tried to "turn" his siblings against Jerry. (She also referred to her other children as her "whole" kids, explaining that her "whole" kids do not believe Matt's allegations of abuse.) Despite financial troubles of her own – she wasn't aware you don't get Social Security payments when you're in prison – Dottie made it very clear she did this interview for no money and turned down other interview requests that would have paid her.