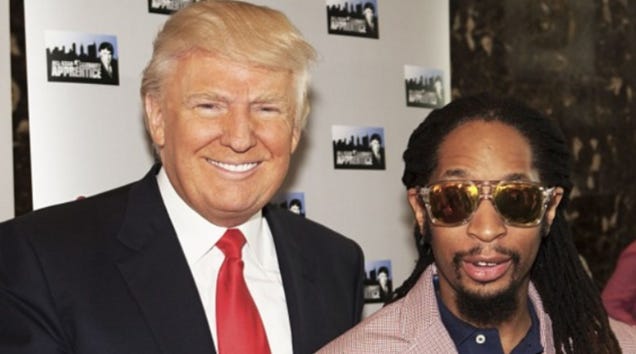 In today's edition of Tweet Beat, tries to wrap his toupée-topped head around the enigma of Lil Jon (probably for money), Anthony Bourdain reflects on his Boy Scouts experience, and Flea may or may not have cried into his cereal this morning.
People love @liljon! instagram.com/p/ZbIeSDmhZS/#CelebApprentice
— Donald J. Trump (@realDonaldTrump) May 17, 2013
I miss the pre-Heimlich days of Boy Scouts when tracheotomies with our rusty Scout knives were the suggested first line of treatment.

— Anthony Bourdain (@Bourdain) May 17, 2013
Not leaving the house this weekend until I'm caught up on Scandal. I feel left behind & left out like the last girl to get my period.

— Lena Dunham (@lenadunham) May 16, 2013
are we bringing back jelly sandals this summer or what?

— Kristen Bell(@IMKristenBell) May 17, 2013
Dear Dallas,I hate to do this last minute, but I have to cancel. I'd give my right eye to be there, but it's swollen and gross. Apologies.

— Nathan Fillion (@NathanFillion) May 17, 2013
@jinkxmonsoon I JUST SAW THE LAST EPISODE YOU WON AAAHHH I'M SO HAPPY!!!!! Sorry I'm so behind. YAY!!!!!!!

— Kat Dennings (@OfficialKat) May 17, 2013
billie holiday can make a grown man weep into his cereal

— Flea (@flea333) May 17, 2013
So the 5th dentist is just an asshole, right?

— Jimmy Kimmel (@jimmykimmel) May 17, 2013
Remember, time moves fast and our loves and connections die leaving us all alone — every commercial lately or is it just me ladies?

— adam pally (@adampally) May 17, 2013
Yes your honor I admit it. I am fierce as hell. Send me to fierceness jail

— The Mountain Goats (@mountain_goats) May 17, 2013
Does a bar called "The Wine Dive" already exist? Just selling Shaw and spiked prune juice?

— Kristen Schaal (@kristenschaaled) May 17, 2013
"I'm kind of surprised Tim Horton's even exists. It's such a mediocre thing. It's like they perfected mediocrity." Dad sick of driving maybe

— Tavi Gevinson (@tavitulle) May 17, 2013
"Gross" - me, thinking about pretty much everything.

— Michael Ian Black (@michaelianblack) May 17, 2013
i NEED FREE 7-LAYER BURRiTOS FOR LiFE @tacobell

— YUNG FORTUNE COOKiE (@JODYHiGHROLLER) May 17, 2013
When I misspell a word so badly that there are no replacement suggestions the sense of shame follows me all day.

— Anna Kendrick (@AnnaKendrick47) May 17, 2013
Mustaches on the grill of your car seem to be getting popular I see... So far today I've seen 4!! Lol

— Audrina Patridge (@AudrinaPatridge) May 17, 2013
Jay Z and Beyonce are expecting another baby and I'm prayingggg its me.

— Christopher Manzo (@chris_manzo) May 17, 2013
Where is leonardo dicaprio I wanna sink a ship

— dıpןo (@diplo) May 17, 2013
Image via Donald Trump's Instagram. LOL.