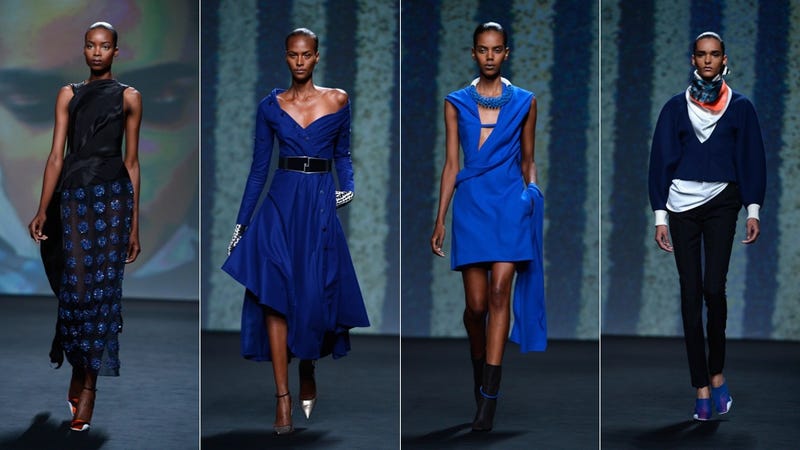 For the first time since Raf Simons took over the design duties at Christian Dior, the brand has hired black models for its runway show. Six black models were cast in today's Dior couture show, one of the most highly anticipated fashion shows of the season.
Dior couture walked this morning in Paris, and photos and early reviews are just trickling in. ShowStudio has photos of the full collection and a panel discussion about the show. What is immediately interesting about the 50-look show is its casting: the show found room for the Latina models Simone Carvalho, Marina Nery, and Teresa Lourenço, and the Asian models Yumi Lambert, Chiharu Okunugi, Ji Hye Park, Meng Huang, Ming Xi, Sung Hee, and Fei Fei Sun. Perhaps most significantly, the black models Alek Wek, Grace Mahary, Joan Smalls, Maria Borges, Kelly Moreira, and Yasmin Warsame all walked.
They are the first black models to ever work for Simons at Dior: in the previous six collections he has overseen, no black models have been included in any show cast, lookbook, or seasonal ad campaign, according to Fashionista.
The whitewashing of the Dior brand under Simons' watch was particularly significant because, under former creative director John Galliano, Dior shows and ads were very racially diverse (by the standards of high fashion, at least). Galliano's personal issues with race are well-documented — he was convicted, under France's strict hate speech laws, of hurling racist and anti-Semitic abuse at a couple of strangers in 2010 — but as a designer, his vision was rooted in a multi-cultural world. When Simons abruptly switched to virtually all-white casts, people noticed. Earlier this year, prominent casting director James Scully even called Simons' casting racist.