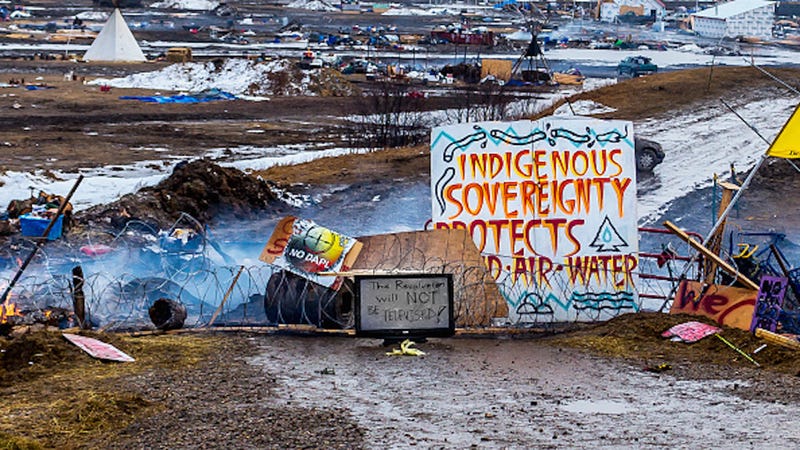 As of Monday, the Dakota Access Pipeline—hotly protested for its environmental ramifications and desecration of American Indian cultural sites—has been filled with oil and prepared for service.
The AP reports that the oil is located beneath a Missouri River reservoir in North Dakota.
"Oil has been placed in the Dakota Access Pipeline underneath Lake Oahe," reads the court filing from Energy Transfer Partners. "Dakota Access is currently commissioning the full pipeline and is preparing to place the pipeline into service."
Energy Transfer Partners submitted this announcement to the U.S. District Court for the District of Columbia. Those in favor of the pipeline regard this development as significant. Protests delayed progress for three months, but now the 2000-mile-long pipeline is readied to move oil from North Dakota, through South Dakota and Iowa, and to a shipping site in Illinois. However, it's not yet certain when full operation will begin.
And in the meantime, many still battle to preserve the land the pipeline disrupts. The Standing Rock and Cheyenne River Sioux tribes continue to pursue their lawsuit which demands a stop to the project. From the AP:
"The tribes in December held up the project by successfully pushing the U.S. government for a full environmental study of the Lake Oahe crossing, which is in southern North Dakota. But the Army Corps of Engineers, which manages the Missouri River for the government, rescinded the study and gave the company permission to complete the pipeline at the urging of President Donald Trump shortly after he took office."