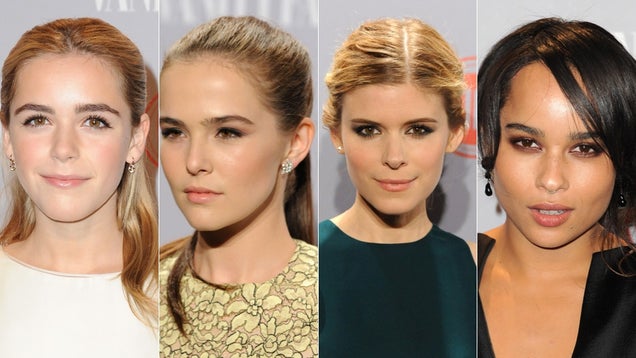 S
Last night, Young Hollywood flocked to the Vanity Fair Young Hollywood Part in L.A. to be young and have a party. Several Cool Teens were there, and most everyone looked elegant or bold and stylish — with a few very notable exceptions.
Let's take a look: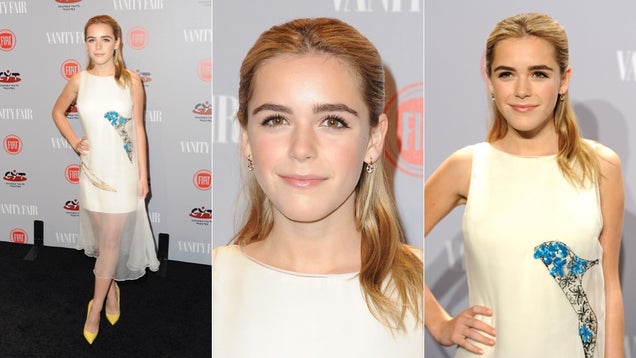 S
Cool Teen Kiernan Shipka looked like a very elegant Cool Teen in a Dior dress (feat. drawings of shoes by Andy Warhol).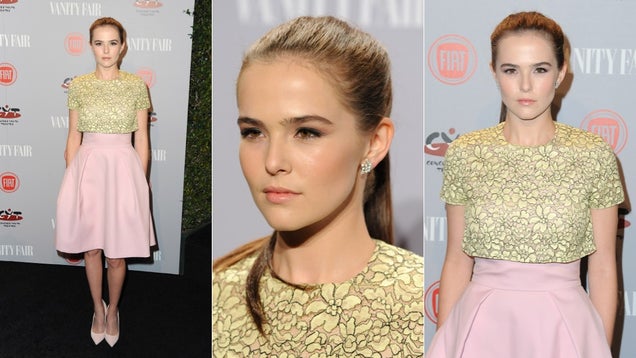 S
Zoey Deutch, star of Vampire Academy, also wore Dior and very much embodied Raf Simons' breezy vision of femininity.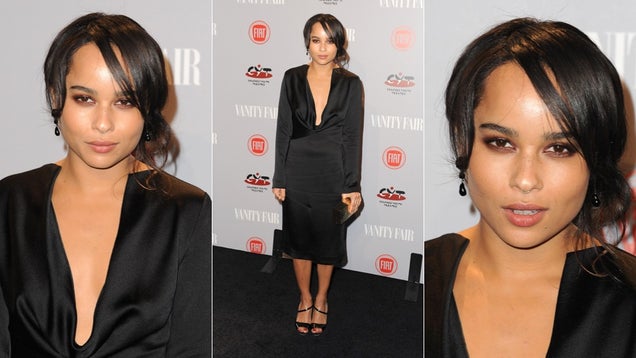 S
Zoe Kravitz showed up in a very beautiful silken fashion sack by Calvin Klein. She looks like the hottest alternative girl in her witch school.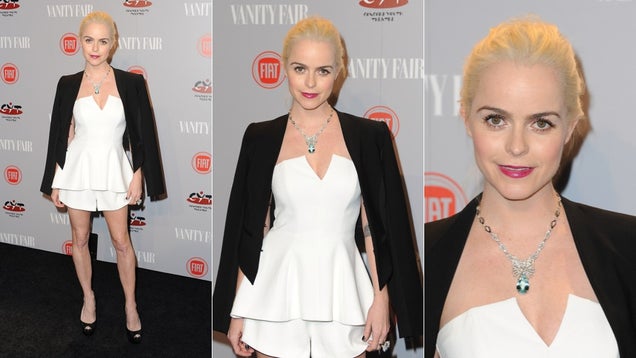 S
Tayrn Manning opted for a less formal look — here she is in a peplum romper, paired with a huge-ass gem around her neck. Massive jewel/onesie combination is a very unconventional call.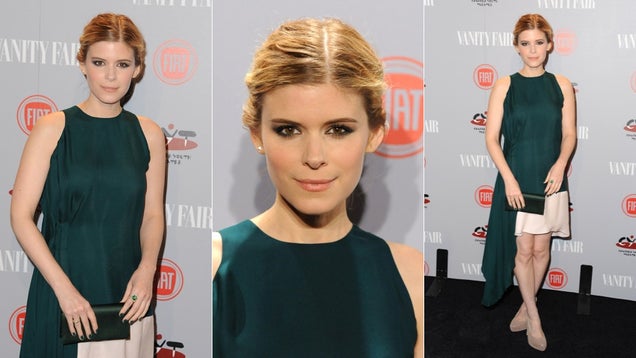 S
Kata Mara ALSO wore Dior, but her dress was fairly ill-fitting, unfortunately.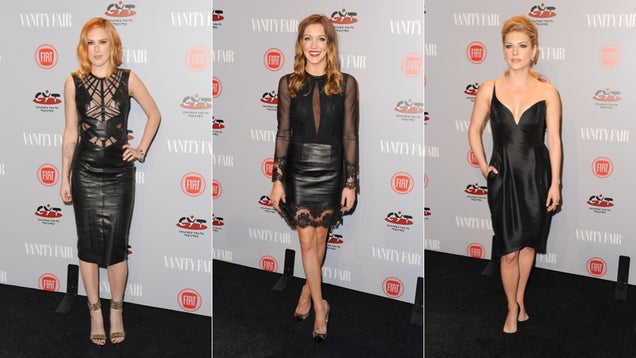 S
Looking amazing in slinky, daring black dresses, we have Rumer Willis oozing futuristic dominatrix vibes; Katie Cassidy going for a triple trend-crown in sheer, lace and leather; and Katheryn Winnick (of Vikings) in a gorgeous asymmetrical LBD.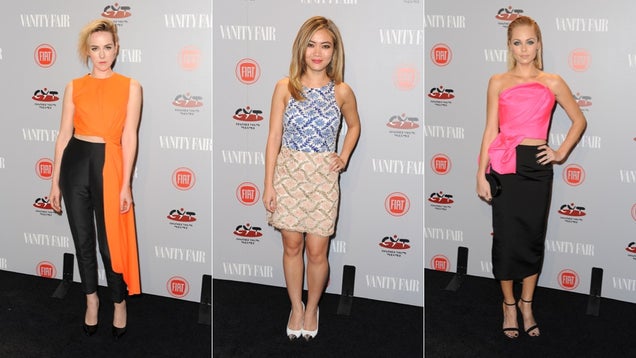 S
Color-blocking done right: the always stylish Jena Malone continuing the conceptual formal trousers thing that Emma Watson started quite adeptly; Jessica Lu of Awkward color-blocking patterns; and actress Laura Vandervoot wearing something like Jena Malone but not as good.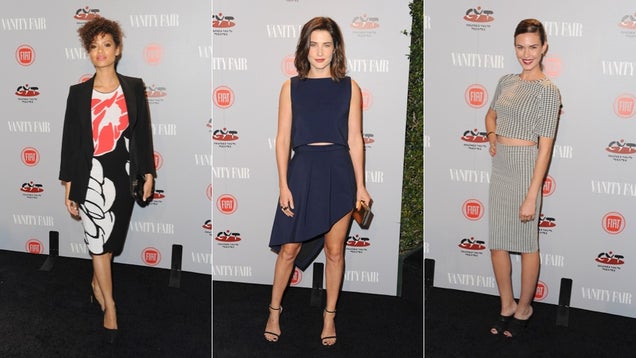 S
Other highlights! English actress Gugu Mbatha-Raw pulling off a bold, patterned dress amazingly (also, best hair of the night by far); Cobie Smulders of How I Met Your Mother in a gorgeous navy tailored crop top and skirt; Odette Annable wearing the patterned separates style that peaked last year (but still looking great!).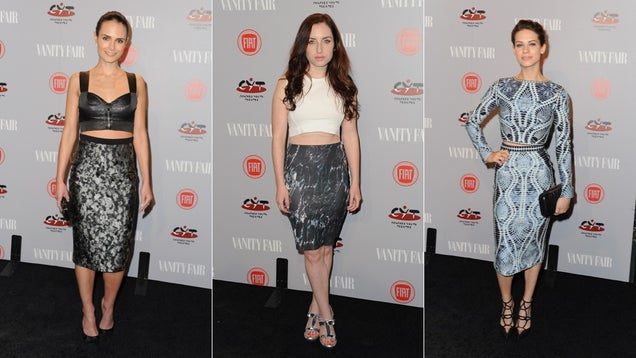 S
Onto the meh: here are some mildly distressing patterns. Jordana Brewster wore a metallic couch and a bustier; Zoe Lister-Jones opted for a lovely marbled print, which she paired with silver Tevas; Lyndsy Fonseca wore TOO MUCH SNAKE PRINT.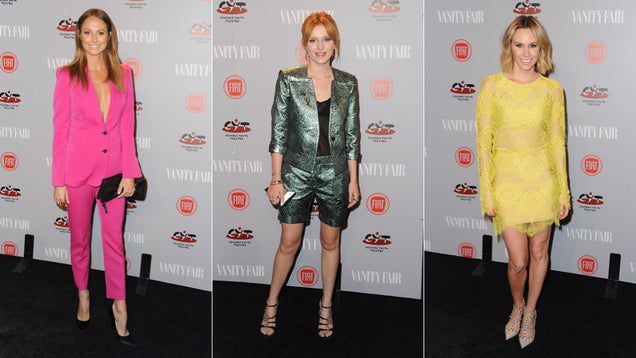 S
Some very colorful mishaps: Stacy Keibler's hot pink suit is not doing it for me; I would like Bella Thorne's metallic one if her bottoms didn't look like board shorts that someone crafted out of tinfoil; and Keltie Knight's bright yellow lace number is a bit garish.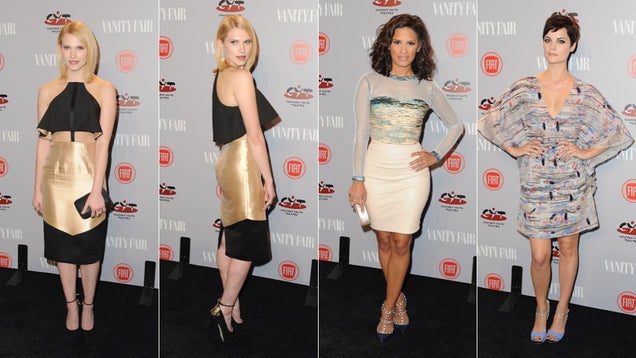 S
THE BAD: Claudia Lee went as a gilded lamp; Rocsi Diaz went as an uptight mermaid lost at a rave; Jamie Alexander went as a seasonal place mat.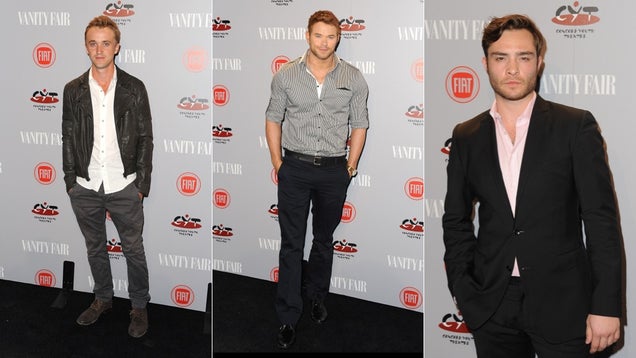 S
Some men: Tom Felton in a leather jacket; Kellan Lutz in a lot of muscles plus a shirt; Ed Westwick channelling Chuck Bass in power pink.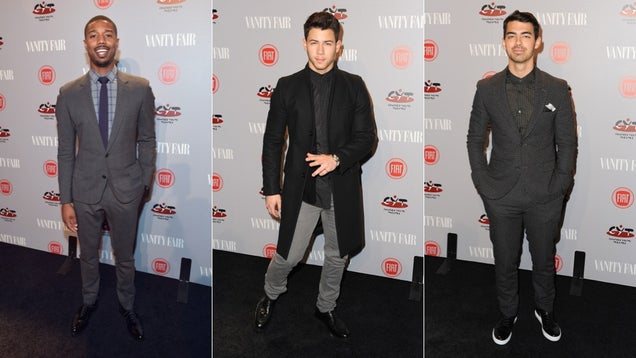 S
More beautiful men: Michael B. Jordan in Dior Homme (DID DIOR SPONSOR THIS EVENT?); two Jonas brothers in shades of grey.
Images via Getty.