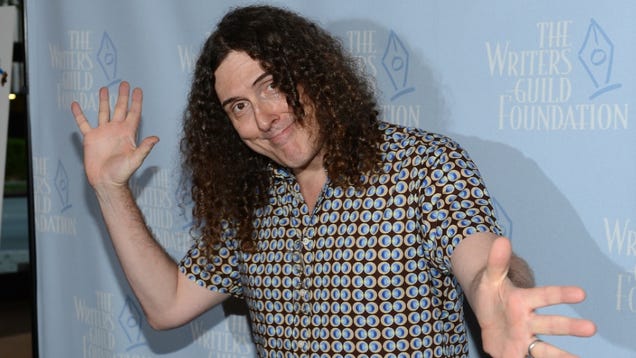 In today's edition of Tweet Beat, Weird Al has been honing his subtle brand of humor for centuries because he is immortal, Aubrey O'Day knows why the caged bird sings, and celebrities try to make light of last night's traumatizing Game of Thrones.
Found on the wall in a Cracker Barrel restaurant.Looks vaguely familiar... twitpic.com/cv3rok

— Al Yankovic (@alyankovic) June 3, 2013
I know why the caged bird sings.

— Aubrey O'Day (@AubreyODay) June 3, 2013
My DVR cut off early. Did anything happen at the wedding?

— Jon Favreau (@Jon_Favreau) June 3, 2013
I've only gone to a therapist once but I'm thinking about seeing one three times a week after tonight's #GameofThrones

— Ike Barinholtz (@ikebarinholtz) June 3, 2013
Should have known when mean Harry Potter caretaker showed up that the wedding would end in tears. #GoT

— Hank Azaria (@HankAzaria) June 3, 2013
I really want to go to a water park! Who's in!??

— Kimberly Cole (@KimberlyCole1) June 3, 2013
Scarier than a regular shark because... ZOMBIE! twitter.com/peeweeherman/s…

— Pee-wee Herman (@peeweeherman) June 3, 2013
I've never seen my 8-month-old floss.GROSS!OMG! No wonder he only has two teeth.

— Jim Gaffigan (@JimGaffigan) June 3, 2013
Working on a menage a trois scène in the book purely in order to use the line "Coming in threes."

— Caitlin Moran (@caitlinmoran) June 3, 2013
Get the fuck up. Kendra says get the fuck up. Girls rub on yo titties.Lol. Good morning you sexy fucks!!!

— Kendra Wilkinson (@KendraWilkinson) June 3, 2013
Bad news: Every time I delete your dick pic the Cloud puts it back.

— Sarah Silverman (@SarahKSilverman) June 3, 2013
Life saved by oatmeal AGAIN! I guess it is an awkward shape to sculpt a bronze Monument to..

— Neko Case (@NekoCase) June 3, 2013
One of the many things I love about reality TV is how honest it is. And that it shows off how smart we are as a country.

— Kristen Schaal (@kristenschaaled) June 3, 2013
Metaphor twitter.com/JessicaSimpson…

— Jessica Simpson (@JessicaSimpson) June 3, 2013
After smelling your feet, why the fuck would I give you something good to eat?

— Michael Ian Black (@michaelianblack) June 3, 2013
PLAN: spend 3 yrs in Tibetan monastery learning to control that thing where saliva jets unexpectedly from your mouth. Use against my enemies

— Ken Jennings (@KenJennings) June 3, 2013
I just can't eat anymore kale.

— RainnWilson (@rainnwilson) June 3, 2013
Also in today's Tweet Beat, I accidentally tweeted "FUUUUUUCK." to 144,000 people:
FUUUUUUCK.

— Jezebel (@Jezebel) June 3, 2013
Ugh, Mondays, am I right?
Image via Getty.