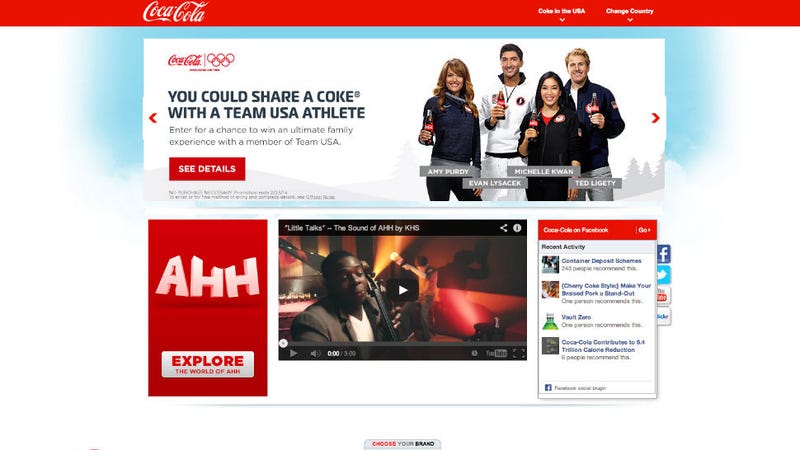 Shh, but gay rights activists are alleging that Coca-Cola doesn't really want America to know that they're sponsoring the Winter Olympics in Sochi, Russia. It might be the television channels I'm watching, but I haven't seen any Coke commercials for the Games in the States now that I think about it.
However: When I logged onto Coke's website, I saw one promotion tied to the Olympics (shown above) but not launching a national campaign does seem odd for the international powerhouse.
In contrast, the beverage company has reportedly drenched Sochi in advertisements. Coca-Cola is working to increase its share of the Russian beverage market and sponsoring the Winter Games, which is also President Vladimir Putin's attempt to make the country look shiny, new and safe, is a great opportunity. Except for the gay thing, which is a big deal, what with Putin warning gays to stay away from Russian children, and President Obama sending all the gays he could find to the Games as delegates. In addition there is an image of an Olympic security guard sporting the Coke logo on his uniform allegedly roughing up a gay rights protestors in Sochi as an elderly man nearby holds a flag also bearing Coke's logo. We are the world ...