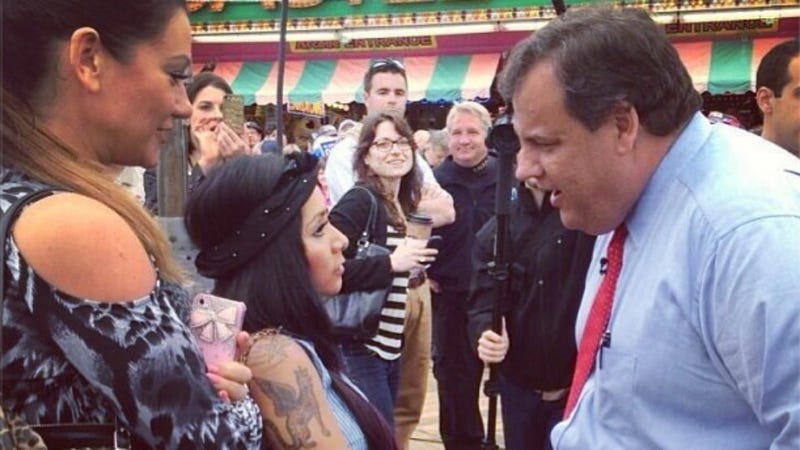 "I just wanted to meet you and just hope you start to like us," said Snooki, ice-grilling the governor.

"Well, we'll do our best," Christie responded in a moment captured on video by the Asbury Park Press.

The loud-mouthed diva also asked the girthy gov, "Why are you standing so close to me?"

Castmate Deena Cortese at one point tried to defuse the tension by telling Christie she's a Jersey girl. But he snapped, "I know you are, I was talking about her."


An exasperated Snooki, 25, then turned to the camera and said "He just doesn't like us."
I told you. Cue mirthless laugh from God. [NYDN; lede image via Instagram]
Prince William is syked to be a dad. [People]
This.
One of Bynes' building residents disagrees: "When you see her, you're nervous to even be in the elevator with her." [People]
Jesse Pinkman's getting married this weekend, bitch! YEAH MAGNETS! [Us Weekly]
Elisabeth Moss called Jeremy Piven "highly unprofessional" for dropping out of Speed-The-Plow because he had sushi poisoning. [Us Weekly]
Lena Dunham elaborated on why she's not down with the Girls porn parody. [Page Six]
Jimmy Kimmel clarifies that he did NOT buy a $1.9 million portrait of a topless Bea Arthur. Dude, why not? [Gossip Cop]
Mariah Carey busted out her dress during her Good Morning America appearance. [Us Weekly]
Selena Gomez and Jaden Smith had dinner in London. [NYDN]
Look out, world/stained futons: Courtney Love's going on tour soon. [Page Six]
Kim Kardashian is revealing the gender of the Kimyeby on TV. Of course. [NYDN]
Also, Kim screamed at the paparazzi at LAX: "Shut the fucking door, you idiots!!" [Gossip Cop]