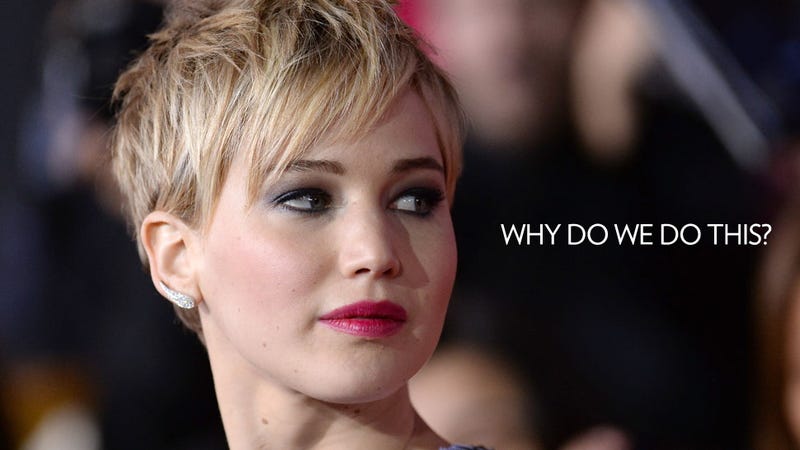 You know that saying about how if you want something to happen, then put it out into the universe? I'm here to plead to the universe—or the pop culture blogosphere—to quit actively wondering when the Jennifer Lawrence backlash will start, because if you discuss the possibility out loud, you basically guarantee that it'll happen.
Still, I can't resist tempting fate myself, since what the predictors say is interesting. For instance, there's Salon's Daniel D'Addario, who lists the signs that a J. Law backlash is a-brewin':
Though Lawrence seemed to have won the PR battle with Joan Rivers when the comedian called her arrogant, Rivers's may come to be the majority view, if history is guide. Just look at how narrowly Lawrence seemed to escape awards season last go-round — with people coming out of the woodwork to snipe at her apparent "wardrobe malfunction" at the Screen Actors Guild Awards (when her couture dress fell as it was designed to) and her joke about beating Meryl Streep to a Golden Globe. Another go-round will bring out those waiting for her to put a foot wrong.
Then there's Vulture's Jordan Hoffman, who wonders when people will see through Lawrence's seemingly effortless and authentic charm on the press junket:
In effect, Lawrence is giving the people what they want — by reminding us that what we want is bogus. And all it takes to do that is to be someone who colors just a tiny bit out of the lines. Her talking points are "no talking points." She'll interrupt a ludicrous red-carpet double-team from both MTV and VH-1 by talking about how much she wants to eat French fries. She'll answer a question about "the process" by which she gets dressed by shrugging and saying she got dressed. Ultimately, she soldiers on, despite the knowledge that a backlash is waiting somewhere off in the distance, just out of sight: "I feel like I'm becoming way too much,"she said recently."Everybody is very fickle. They like me now, but I'm going to get really annoying really fast. Just watch."
By these two writers' estimation (and the actress herself), it seems inevitable that the public's patience will wear thin with Lawrence and her schtick. After all, overexposure and one-too-many public gaffes has felled many other celebrities, including Anne Hathaway, who people describe as Lawrence's polar opposite, and Julia Roberts, who was once America's Sweetheart, but who people now speculate is a huge bitch. People have even mocked the universally beloved Beyoncé for everything from her narcissistic documentary, to trying to take down unflattering photos of herself from Buzzfeed, and even for being a bad feminist.