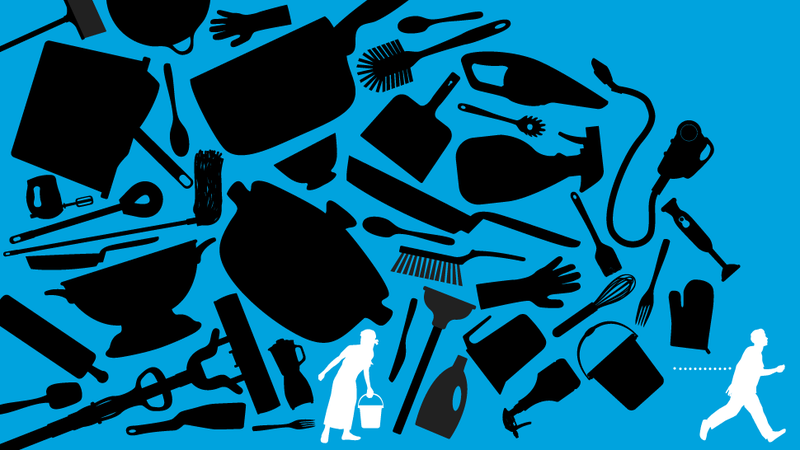 If you are a man in a relationship with someone (most likely a woman) who is fed up with you because you don't clean house at all, or as much, or don't do it competently, or have to be asked, or have to be yelled at, or have to, in ANY way, shape, or form, be spoken to like a misbehaving child or an egregious pet, then you are a terrible asshole. That's right, dudes. It's come to this.
Let's throw out some general situations real quick to answer anyone's immediate quibbles with what I've just written.
What if he isn't physically capable of cleaning because of disability or illness?
Jesus, of course, don't even talk to me about this.
What if she just likes to clean and he hates it and it's not gender but it's their personalities and everyone is fine with that?
Hey, whatever floats your Swiffer boat.
What if she wishes he would clean more but he just won't because it's just not his thing and he hates it, but instead they have extra money and they use that to pay someone so no one has to think about that shit?
Duh, if only we all had this answer.
What if he's just an older guy and he wasn't raised like men today and even though she hates that he won't clean, you just can't teach an old dog new tricks and stuff, but he's a great guy otherwise!
Old + asshole.
What if he's a young guy and he cleans more than his father but still not as much as she does because he just wasn't taught to and it's not his fault?
Asshole.
What if he's a late 30-something man and he wrote an essay about cleaning and splitting domestic chores, where he basically said that men don't clean because it's like, not in their DNA to care and no men of the future will ever clean either?
Grade-A Major Asshole Who Should Know Better, Do Better, and Clean More.
If you:
Think men and women and all people are equal
Live with a woman or a person
and
Are not splitting the cleaning of things in a way that is satisfactory to all parties involved
and
Any version of why has to do with the fact that you "weren't raised to do it" or don't think someone with a dick and balls should have to or "don't care as much" or have some intellectual argument as to why you shouldn't want to and aren't doing the work to unpack that and just lift a fucking hand
then
You
are
being
an
asshole.
This is just like being someone who won't come around to gay marriage yet, or still thinks people of different races shouldn't marry, or thinks that a marrying woman has to take the man's name.