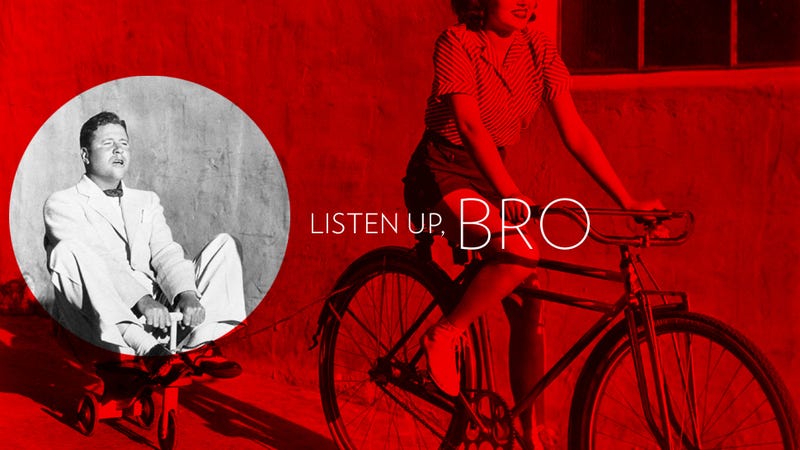 Hey guys*: Listen, I know you're mad at me. I mean, maybe not me specifically, but a figurative "me"—the type of woman who thinks she's funny, who thinks she understands comedy, who has opinions (and shares them) about what kinds of jokes comics "should" or "should not" tell.
I speak up for women, which sometimes involves criticizing men. I don't believe that "rape jokes" should be a completely unregulated market. And I understand that, to you, criticizing a comedian's execution on certain subject matters can seem indistinguishable from censorship and conservatism. So I know you're mad at me and I know why.
But comedy has a serious gender problem, and I really can't stop complaining about it until it's fucking fixed. Comedy clubs are an overtly hostile space for women. Even just presuming we can talk about comedy gets women ripped to shreds by territorial dudes desperate to defend their authority over what's funny. "Jokes" about rape and gendered violence are treated like an inevitability instead of a choice; like they're beyond questioning; like they're somehow equally sacred alongside women's actual humanity and physical sanctity. When women complain, however civilly, they're met with condescension, dismissal, and the tacit (or, often, explicit) message that this is not yours, you are not welcome here. It's fucked up, you guys. And I'm saying that as a friend with the best intentions.
Comedy has always been my go-to art form—it's been more valuable to me, in terms of emotional solace, than film or music, and it's certainly on par with literature. I know a lot of you can relate to that feeling. That doesn't mean I have the same perspective as, say, a hardened road comic, but I get paid to perform on stages, in various contexts, all the time. I've done stand-up in a brightly-lit pizzeria at 6 pm in front of four people who were not informed that there would be comedy (try it, it's great). I've written a weekly comedy column in the newspaper. Most of my friends are comics (many of them are white males!) and my boyfriend is a comic. But I get that there's no amount of experience that could give me "cred" with every single one of you, and anyway, these goal posts are easy to move—even if I were a full-time comic, you could always say I wasn't "good enough" for my opinion to matter. (Plus, it's no secret that plenty of people don't think female comics count as comics at all.) So fuck it. Whatever. What I'm saying here is that I'm not a fucking tourist. I'm not a bachelorette party. And if you're not performing for people like me—discerning lifelong comedy fans—then I don't know why you're doing comedy at all.