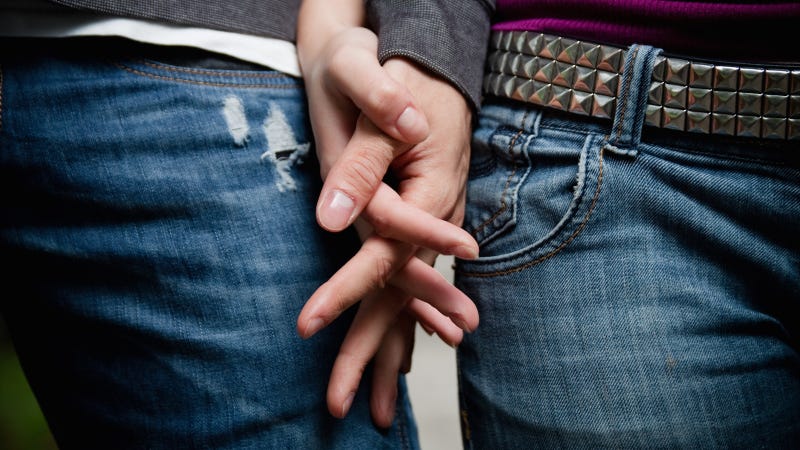 Monica Mares gave up her son Caleb Peterson when she was 16 years old. The two reconnected on Facebook when he was 19, and met in person around last Christmas. Soon he was living with her. Not long after that, they say, they became lovers.
Genetic Sexual Attraction is a term that has become more commonly used than incest in those cases where two people who are related, but don't grow up together, meet and fall in love (or lust). In an interview with The Daily Mail, Mares says that if she'd raised her son, they "probably" would never have had a sexual relationship, but she now considers him the love of her life.
Mares has two other children, nine and 12, who apparently don't have a problem with her relationship with Peterson. The law in their home state of New Mexico does, however. The family got into a fight with their neighbors in February, and when police were called, they somehow discovered that mother and son were dating. Both were charged with the fourth degree felony of incest, and arraigned jointly in April. They were held in custody for breaching their no-contact order, but are currently out on $5,000 bail.
Mares is not allowed to see Peterson or any of her other children. She doesn't seem to care.
'It is every bit worth it,' she said. 'If they lock me up for love then they lock me up. There is no way anybody could pull us apart, and I really do love him.

'It hurts he is far away. It hurts really bad. I wish I could see him, talk to him, but I can't risk it.'
Peterson says he didn't see Mares as his mother when he met her, but some of the details from his adoptive life make it sound like he didn't experience much care or tenderness. His adoptive father is no longer speaking to him.
'I never had anyone cook me meals or give me anything,' he said. 'I never got anything my entire life and she went out of her way to make me happy and after about a week or so I started having feelings for her and I guess I fell in love.

'It went beyond a mother-son relationship I never really viewed her as my mom. In certain aspects I do but mostly I don't.

'I never thought I was crazy for having these feelings because I didn't see her as my mom, it was more like going to a club and meeting a random person. It didn't feel wrong, it felt normal.'
The two are being very open with their relationship, claiming that they want more people to know about GSA. But it also sounds like they let the cat out of the bag before realizing they might face any repercussions for having sex with each other. Peterson says, "Honestly I never thought we would get into trouble for our relationship. We were both consenting adults - when it comes down to it... She's adult I'm adult I can make my own decisions. I never thought it would blow up into something like this."