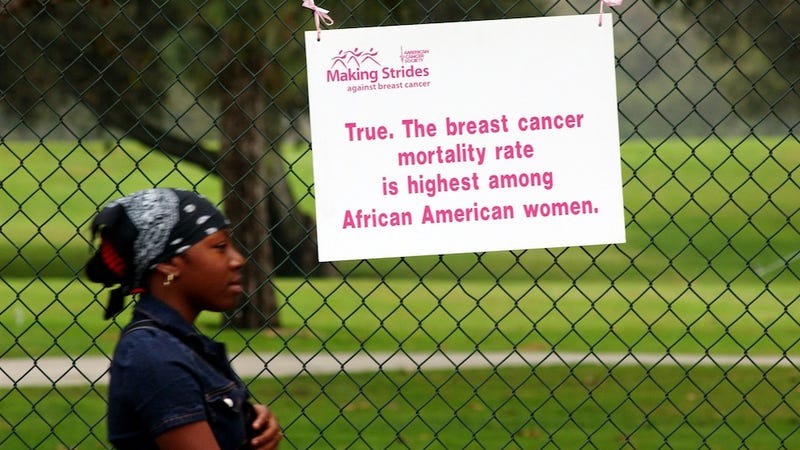 Pink crap-drunk America was busy Racing For The Cure for the last 30 years, one race has been left behind in the fight against breast cancer: black women. In 2013, black women are still twice as likely to die from the disease than their white counterparts. Twice. As. Likely. That's a fucking disgrace.
The New York Times features an examination of the racial disparity in breast cancer deaths today, citing several reasons black women have been left behind, and the years-too-late steps breast cancer charities and community organizations are taking to address the problem.
The long and short of it, according to hospital officials and researchers, isn't that cancer interacts differently with the cells of women with African heritage; it's that black women aren't as likely to catch cancer early as white women. They're not as likely to go to the doctor, because black women are less likely to be able to afford the doctor, and more likely to distrust a medical system that hasn't exactly proven itself trustworthy to the African American community.
For years, America's piss-poor for-profit healthcare system that kept preventative care out of reach of people who needed it to live. Prior to the Affordable Care Act's inroads into decoupling insurance and employment (or extreme poverty), black women, statistically, were less likely to work jobs that came with cushy health insurance that would pay for mammograms. To paraphrase the Times, the poor are also less likely to work jobs that afforded them the time off they'd need for medical care, even if they did qualify for Medicaid. (Say what you will about the "rocky" rollout of Obamacare or pajama boy or whatthefuckever smarmy political Twitter is beating to death today; at least Obamacare is making progress toward a country where people don't die of cancer they could have cured had they caught it early.)
There's another, sadder reason black women don't go to the doctor: they distrust the medical system. And for good reason — America has an incredibly shitty record of treating black people's bodies as though they're public domain. The Times piece mentions the Tuskegee experiment, where doctors (under the direction of the US Government) let black men who were receiving free health care from the government go untreated for syphilis for decades, but doesn't mention something that's probably a lot more relevant to black women in the South today: forced sterilization.
From the 1920's into the 1970's, various states forcibly sterilized thousands of women deemed unfit or undesirable for reproduction. Some didn't find out until they tried to have children again that they'd had a tubal ligation, or hysterectomy. Those sterilized by the government were disproportionately poor, and disproportionately black. Is it any wonder that women a generation or two removed from this would give the American medical establishment a hearty side eye?