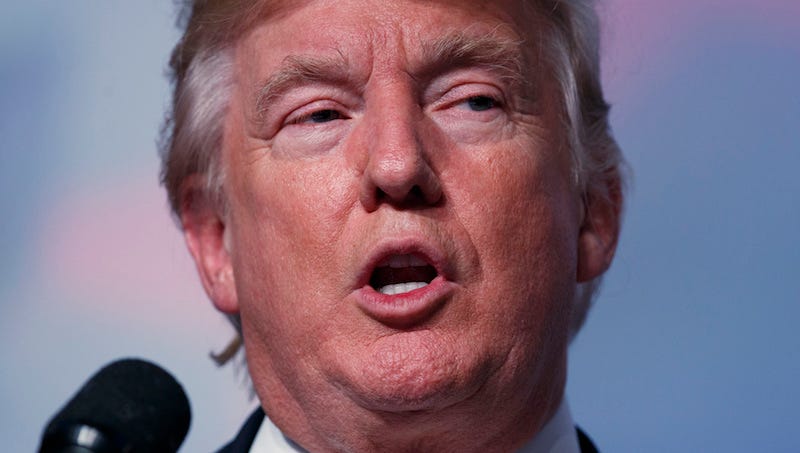 This week, six women came forward with specific allegations of sexual assault against Donald Trump, adding their voices to a growing chorus of women who say they were violated by the Republican presidential nominee. And with more women reportedly preparing to come forward tomorrow, it's anyone's guess what number—if any—will be the one that finally breaks Katrina Pierson.

The outpour began Friday, when the Washington Post published footage of Donald Trump talking with Access Hollywood host Billy Bush about sexually assaulting women on the strength of his celebrity. "I grab 'em right by the pussy," Trump said, telling Bush he liked to carry Tic Tacs with him in case he felt like forcibly kissing someone.
"I've got to use some Tic Tacs, just in case I start kissing her," Trump said. "You know I'm automatically attracted to beautiful—I just start kissing them. It's like a magnet. Just kiss. I don't even wait."
In a subsequent apology video, and again during the second presidential debate, Trump repeatedly referred to the exchange as "locker room talk."
"This was locker room talk. I'm not proud of it, I apologized to my family. I apologized to the American people. Certainly I'm not proud of it. But this is locker room talk," Trump said during the debate Sunday, adding, "You know, when we have a world where you have ISIS chopping off heads and frankly drowning people in steel cages, where you have [sniff] wars and horrible, horrible sights all over, where you have so many bad things happening."
When Anderson Cooper asked if he'd ever done any of those things, Trump replied he had not.
But now a host of women say he did those things and more, often using the exact same methods he bragged about in the so-called locker room chat with Bush.
Jessica Leeds—1980s
The Allegations: Jessica Leeds, 73, told the New York Times in October she met Trump on an airplane "more than three decades ago." Less than an hour later, the paper reports, he was groping her.
About 45 minutes after takeoff, she recalled, Mr. Trump lifted the armrest and began to touch her.

According to Ms. Leeds, Mr. Trump grabbed her breasts and tried to put his hand up her skirt.
"He was like an octopus," she told the paper. "His hands were everywhere." Also: "It was an assault."
She says she decided to come forward after seeing Trump deny having ever sexually assaulted a woman during the debate.
Trump's Explanation: The campaign threatened Thursday night to sue the Times for the story, and Trump's attorneys with the law firm Kasowitz, Benson, Torres & Friedman LLP also issued a meaningless letter demanding the paper retract its "libelous article."
The Times says when asked for comment Tuesday, a "highly agitated" Trump shouted at the reporter, called her a "disgusting human being," told her, "None of this ever took place," and added "I don't do it. I don't do it. It was locker room talk."
Katrina Pierson also went on CNN to debunk the claim, an incredible exchange I will not detract from with an attempt to summarize it... just watch it:


Ivana Trump—1989
The Allegations: Ivana alleged in a 1989 deposition, cited in the 1993 book "Lost Tycoon: The Many Lives of Donald J. Trump," that she had been raped by Trump. The book describes that assault in detail, apparently based on the deposition testimony. In a statement appended to the front of the book, Ivana acknowledged she had used the word while under oath to describe an encounter with Trump, but downplayed its significance.
"During a deposition given by me in connection with my matrimonial case, I stated that my husband had raped me," the statement said. "I referred to this as a 'rape,' but I do not want my words to be interpreted in a literal or criminal sense."
Last year Ivana said in another statement that the story is "completely without merit."
Trump's Explanation: Trump has repeatedly denied the allegations. "It's obviously false," Donald Trump reportedly told Newsday in 1993. "It's incorrect and done by a guy without much talent… He is a guy that is an unattractive guy who is a vindictive and jealous person."
Jill Harth—1990s
The Allegations: Jill Harth sued Trump in the mid-90s alleging, among other things, that Trump repeatedly groped her during business meetings with her and her husband.
"Basically he name-dropped throughout that dinner, when he wasn't groping me under the table," she testified in a 1996 deposition. "Let me just say, this was a very traumatic thing working for him."

Trump's Explanation: Trump says Harth was after him romantically, and released recent emails showing that Harth congratulated him on his campaign and thanked him for his help, both personally and professionally.
Kristin Anderson—1990s
The Allegations: Kristin Anderson, the Washington Post reported October 14, says she was at a club with friends in the 1990s when Donald Trump sat down next to her and stuck his hand up her skirt.
Kristin Anderson was deep in conversation with acquaintances at a crowded Manhattan nightspot and did not notice the figure to her right on a red velvet couch — until, she recalls, his fingers slid under her miniskirt, moved up her inner thigh, and touched her vagina through her underwear.

Anderson shoved the hand away, fled the couch and turned to take her first good look at the man who had touched her, she said.

She recognized him as Donald Trump: "He was so distinctive looking — with the hair and the eyebrows. I mean, nobody else has those eyebrows."
Anderson says she and her friends, some of whom corroborated her account, were "very grossed out and weirded out" and thought, "Okay, Donald is gross. We all know he's gross. Let's just move on."
Trump's Explanation: "Mr. Trump strongly denies this phony allegation by someone looking to get some free publicity. It is totally ridiculous," Trump spokeswoman Hope Hicks told the Post in an emailed statement.
Jane Doe—1994
The Allegations: A suit filed on behalf of a woman who no one seems to be able to get in contact with alleges that Trump raped a then-13-year-old girl at the New York City home of prolific convicted sex offender Jeffrey Epstein.
Trump's Explanation: Advisor Roger Stone calls the lawsuit a hoax, and for once, he may be right.