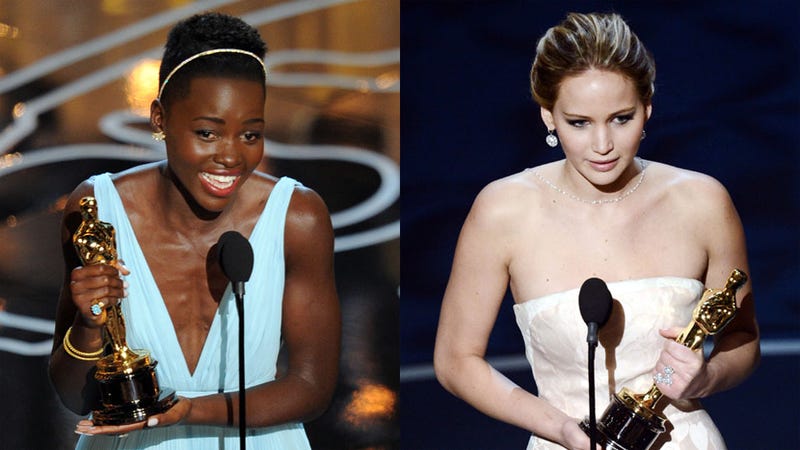 I'm really not into the phrase "It Girl." First of all because it sounds like a euphemism for "Sexy Pennywise Halloween Costume," and second of all because it's so...singular. We can only have one girl? And that's "It"? Girls are like the Highlander? What happens to her when she's not "It" anymore? Why don't we have an "It Boy"?* Why do we have to pick teams and then hate everyone who picks the "It" girl that we didn't pick? Why is womanhood always a fucking contest?**
There's something disturbing about the way we throw female celebrities in a jar and make them fight, and it got me thinking: Is there a responsible way to idolize famous women—a way that uplifts us all instead of turning us into weird chattering territorial beasts? I think so. And it's not that hard.
1. Don't Turn Womanhood into a Competition
I don't know if the Jennifer Lawrence/Lupita Nyong'o Face/Off*** that's supposedly brewing is a real thing, or if it's just manufactured by blogs that need something to thinkpiece about (ours included, I know, I know), but backlash against popular female celebrities is definitely real. It's definitely gendered. (Nobody's writing thinkpieces forecasting a coming Cumberpocalypse, for instance. Shia LaBeouf had to literally sit in a room for a week with a bag on his head to get himself a backlash.) In the course of writing this piece, I tried to recall the timeline of the anti-Natalie Portman movement. Did it start with Garden State? Was it the time she shaved her head and was still hot? Or was it as late as Black Swan? Did it predate the Anne Hathaway backlash or did they overlap? IT'S SO HARD TO KEEP TRACK OF WHEN PEOPLE HATE WHICH WOMEN.
There's a stanky tinge of commodification and coercion about that process—when someone becomes our favorite, we want her to perform precisely the version of womanhood we've selected for her (take the "right" roles, hold the "right" political views, be the "right" amount of "real"). There's no easier way to get people to hate you than to become beloved. You can't fall if you never make it to the top.
But Jesus Christ, isn't the whole point to make more room at the top for women?
It plays into the tendency we have to declare people "good feminist" or "bad feminist," as though life isn't a long, thorny learning process. As though there's only one way to be a responsible human being. And it really strips female celebrities of their agency—to decide that it's your way or the highway (who ARE you, even!?). Maybe Lupita Nyong'o doesn't want to be the next James Bond, or whatever. Maybe Jennifer Lawrence didn't ask to be your body acceptance icon and that's why she sometimes does it wrong. Maybe people just want to act in the movies they want to act in, and wear pretty dresses because it's fun, and eat a corn dog once in a while, and make money, and make art, and fuck up your assumptions about beauty and "normalcy."
Why does the rise of Lupita have to signal the fall of Jennifer? WHY DO I HAVE TO PICK?
I've always thought it'd be funny, as a satirical art piece, to release a fake, multi-volume issue of Maxim that's as thick as the OED, and call it the Maxim Hot Three Billion. And then just rank ALL THE WOMEN. Because that's the logical extension of this shit we do.
Let's stop doing this shit.
2. Don't Confuse the Person with the Persona
You don't actually know if you like Jennifer Lawrence, because you don't know her. You know the story of her. Remember that.
It's important to recognize that a lot of this "backlash" drama is manufactured directly by those celebrities' PR teams, and participating in that is A-okay. Tabloid narratives are as legit (and profitable) as on-screen narratives for celebrities who take that path, and hating Jennifer Aniston for the character she occupies in the 'bloidz is not the same as hating Jennifer Aniston the human woman. And based on the fact that Jennifer Aniston has done almost nothing since Friends besides professionally-being-gossiped-about, I'm fairly confident that Jennifer Aniston accepts that dichotomy and cannily exploits it. There are plenty of female celebrities whose uterine updates aren't splashed all over the cover of Us every week.
But when celebrities attempt to set boundaries—like when Kristen Bell and Dax Shepard demand that the paparazzi cease thwacking their infant with a camera lens—they're reacting to violations of that consensual tabloid narrative. And, as a feminist, it's my responsibility to respect those boundaries to the best of my ability. Yes, celebrities are compensated handsomely for the inconveniences of fame, and their children will grow up with an almost sinister level of privilege, and yes, people will automatically care more about Ireland Baldwin's opinions than they do yours, and I'm sure you have really good opinions!!! But none of that negates the fact that celebrities are human beings with human lives AND YOU DON'T KNOW THEM.