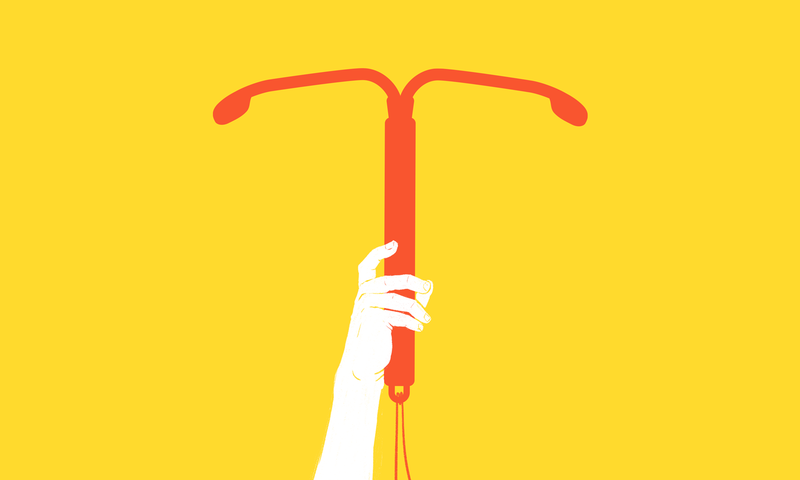 By noon on the day after the election, Google searches for IUDs were spiking—one of the most popular search terms overnight was, "Get an IUD now." What's long been an unpopular form of birth control suddenly took on a newfound appeal for one major reason: it'll last longer than a Trump presidency. It's a devastating trend, but it's also a smart one.
I didn't think the IUD was for me until I began working as an abortion doula and saw doctors recommend the contraceptive day after day to all sorts of patients as an extremely effective, long-lasting but easily reversible, no-regular-maintenance-required option. Since it seemed too good to be true, I figured there must be something wrong with it, otherwise I would have gotten one ages ago. Instead, when I asked my doctor about birth control options when I was 16, she didn't even mention it.
The IUD was introduced to the American public alongside the birth control pill in the sixties and garnered immediate popularity. In the early seventies, over just a few years, an IUD called the Dalkon Shield led to 17 deaths, widespread incidences of Pelvic Inflammatory Disease, and a massive class action lawsuit in the seventies. Unsurprisingly, the IUD quickly fell out of favor.
In Europe, where the Dalkon Shield was less common, women continued using IUDs. They remain significantly more popular in most European countries than in the U.S., even as modern iterations have eliminated earlier problems. But today, many doctors still aren't trained in implantation, insist that IUDs are only for women who've already had children (despite evidence to the contrary), and often fail to suggest it to those who'd most benefit, like teenage girls.
So, I picked birth control pills at 16 and worried constantly about missing a dose, waited in terror for my period to appear each month, and experienced a few less-than-pleasant side effects. It was hard to keep up with and I didn't always trust that I'd been methodical enough. When I went to get plan B without my ID—thankfully I was by then eighteen—the (male) pharmacist refused to hand it over. "Come back with an ID," he said, looking over my shoulder before adding, "Next!" I didn't move right away. "You want me to have a baby?" I snapped, furiously. "I'll bring you one in nine fucking months and put it right here on the counter for you to take care of!" I stomped out and later got Plan B from another Duane Reade once I'd found my driver's permit. Of course, my big statement was marred when, three weeks later, I had to show up at his counter and wait while he refilled my birth control.
It became routine to leave a series of increasingly desperate voicemails for my doctor, begging her to write a script even though I hadn't gotten a physical in ages. In fact, it was complaining about that exact situation that resulted in my IUD implantation. I was between shifts as an abortion doula, hanging out with my boss in her office. "I have one pill left and my doctor hasn't returned my calls for days," I said, playing with a mini-speculum she kept on her desk. "Maybe it's time for you to finally get an IUD," she said, "Ask Doctor W., she'll put it in for you."
I'd been toying with the possibility of getting one for months, but the idea of suddenly having the problem of birth control solved for five years made me jittery with excitement. So, eight years after becoming sexually active, I picked the Mirena, a hormonal option most often recommended by the doctors I worked with. It was supposed to last for five years; the copper IUD lasts twice as long and is hormone free, but it can result in heavier or more painful periods. When I asked one doctor if she'd implant one after our shift together, she told me to meet her in the exam room with my insurance card at 6:00. I was honestly a bit terrified. I took two Advil, spread my legs and tried to take measured deep breathes. "It hurts a lot, but then it's over," she said, "tell me when you want to begin."
In Jezebel, Jenna Sauers wrote that getting her IUD felt like "someone throwing darts at my cervix." I've yet to find a better description than that. After the pretty painful insertion, I treated myself to a cab home and rode uptown with my jeans undone in the backseat. For a couple of days I felt a vauge stabbing feeling in my uterus, then I didn't really feel much. My period disappeared for a few months, when it came back it was lighter and less cramp-y.