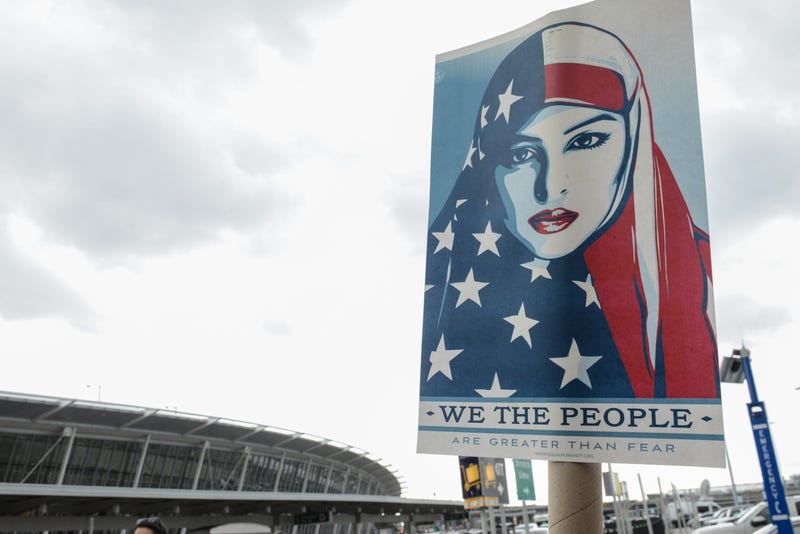 Said Hajouli's wife is on a flight from Turkey to Dulles that is scheduled to land at 7 pm tonight. Hajouli, a physician at Washington Hospital Center, has no idea what's going to happen when she gets off the plane, but he knows what the worst-case scenario is.

"The worst scenario will happen, actually, she's going to go back to Turkey and then in Turkey, she'll go back to Syria, and she can't do that," he said by phone Saturday. He asked Jezebel not to use his wife's name.
He says he and his wife left Syria about two years ago, when he came to D.C. to practice medicine on a German visa. His wife stayed in Turkey, eventually gaining a J2 visa to join him in the States.
"She's been on the flight almost ten hours, almost from the beginning of this," he said, referring to the ripple effect emanating from Donald Trump's executive order titled "Protecting the Nation from Foreign Terrorist Entry into the United States."
Hajouli is right to be worried—so far Trump's order has blocked out refugees facing death at home, college students coming back from winter vacation, and legal permanent residents of the U.S., whose only apparent misdeeds were not booking earlier flights.
As of Saturday afternoon, twelve people had been detained at New York's JFK Airport in the hours since Trump signed the Muslim ban at the Pentagon Friday, declaring proudly, "That's big stuff!" Only one man—Hameed Darweesh, an Iraqi man who got a green card for his work with the American government—has been released. There are also reports of refugees detained at Philadelphia International Airport.