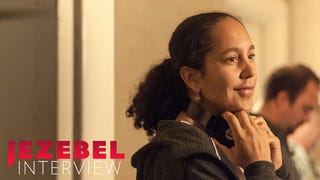 At its core, Beyond the Lights is a story about what happens everyday with pop stars. The movie makes an especially firm statement about women in music. For her first film since 2008's The Secret Life of Bees, writer and director Gina Prince-Bythewood zooms in on an industry where identity, money, power and family are muddled.
The story follows Noni (played by Gugu Mbatha-Raw) through her awkward preteen stage to her adult experience dealing with the pressures of the music industry. Everything changes the moment love interest Kaz (Nate Parker) tells Noni, "I see you." From there, her life becomes a mess of tabloid rumors, power struggles and pressures from all ends, including her mom (Minnie Driver), who's both a protective force and a threat to her independence.
Ahead of the film's release in theaters today, I spoke with Prince-Bythewood about her writing process, her personal connection to the characters, the music industry's body politics, and a particularly powerful scene she describes as "a form of rape onstage."
What initially drew me to this film was that it deals with music stars on a deeper level than what people see. Fans don't know what goes into making a star and how much control female pop stars in particular are forced to give up.
Absolutely.
What about this world appealed to you enough to write a story about it?
I love R&B and hip-hop. It's what I listen to, and I have two boys who are 13 and 10 who love the music as well. But I can't play the radio in the car anymore with them in it because of the direction that it's gone—and not just with men, but with women as well. It's the genre I love that I see going in a dangerous, angry place. There seems to be a blueprint for the way that young artists need to come out hyper-sexualized to get noticed, and it works. But you get trapped in that persona and you're competing to push the envelope. There's really nowhere else to go but over a cliff, which is where our character [Noni] is at the beginning of the film.
That's not to say all sexuality is bad in music. It is authentic to some artists. My issue is really for those who are pushed by managers and handlers and don't have any say or agency in the images that they're putting out. You look at the difference between Beyoncé, who is making her own decision—she runs it—as opposed to someone like Britney Spears or Miley Cyrus, who changed up their game. Ciara came out one way but suddenly switched it up and you wonder why, what changed, because you were dope the way you were. So what was it that made you feel you had to push this other thing?
How do you think the female pop star has evolved from when you were growing up?
I think it's the artist. I mean, you think about Madonna back in the day. There's only one Madonna, but she certainly had control over her career and what she was putting out and that was her choice. One of the very first influences of the script and this character was Judy Garland and Marilyn Monroe—their relationships with their mothers, as well as the hyper-sexualized persona they had to put out at an early age and try and maintain. I had Gugu read those biographies. So it's been happening forever. It's been happening in art, in music, and not just hip-hop and R&B, but pop and rock-and-roll. It's always going to be going on. It just seems that at this point right now, there's a definite competition to push the envelope. There are times when I'm watching videos and my mouth is literally open, like, what am I watching right now. So I just want to change the conversation.
You spoke to a few women artists to make some of the storyline more authentic. I'm curious how you then went about processing that information.
I was very fortunate to be able to talk to a number of artists—some I had worked with before; some who had followed the path, and others who fought against it. They knew I wasn't going to turn around and talk, so they were very honest. Research is everything to a writer, so I read articles on Mary J. Blige, who talked about being in a place so low that she thought about suicide. Fantasia, of course. Kid Cudi. People have been very honest about what the music industry can do to you, and there is a pattern.
What was the theme that stood out to you the most while speaking to these artists? Was there one thing that kept recurring?
It's the moment where they felt alone, when they were pushed to do something they didn't want to do. For one artist, it was that moment where the photographer asked her to take her shirt off and she looked around for help and nobody was there to help. That stayed with me and obviously is reflected in the movie.