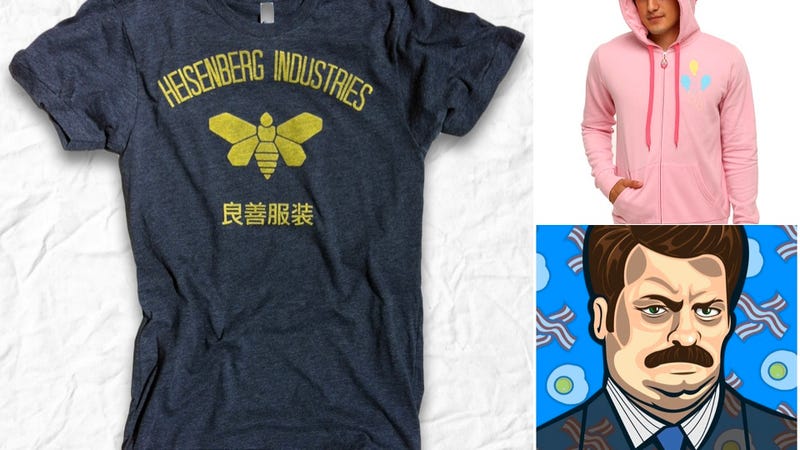 Do you have an entertainment enthusiast, movie superfan or TV obsessive on your list this year? We've got some ideas for gifts and stocking stuffers that film buffs and armchair TV critics will love.
Vintage rock photography is a gorgeous way to display love for an artist. Black and white premium photographic prints make a truly classy gift. Prince, $50, Ebony store/Art.com David Bowie $90; Art.com. Plug in your giftee's favorite singer — Tina Turner, Billie Holiday, Madonna — the gang's all there. (You can also take vintage vinyl albums and put them in record frames as an alternative idea.)
For a Doctor Who fan: A Tardis iphone case, $10, from Art Trip; or some beautiful minimalist posters, $88, from The Geekerie.
What about a Hunger Games-inspired iPhone case? $7, Tonight Star.
(Big fan of these Star Wars iPhone cases as well.)
Walter White followers might like a Breaking Bad-inspired T-shirt $18, Goodness Clothing. (In addition, check out this Breaking Bad-inspired screenprint, $25, by Jon E. Allen, who also does LOTR and Dexter posters.)
"I didn't bring your breakfast, because you didn't eat your din-din!" It's the 50th anniversary of the film, so here's a 50th anniversary edition DVD of Whatever Happened to Baby Jane. $11, TCM. (Also recommended: The Complete Thin Man collection.)
Commenters Moist and nlpc23 both recommend The Revolution Was Televised, by Alan Sepinwall; as Moist writes,