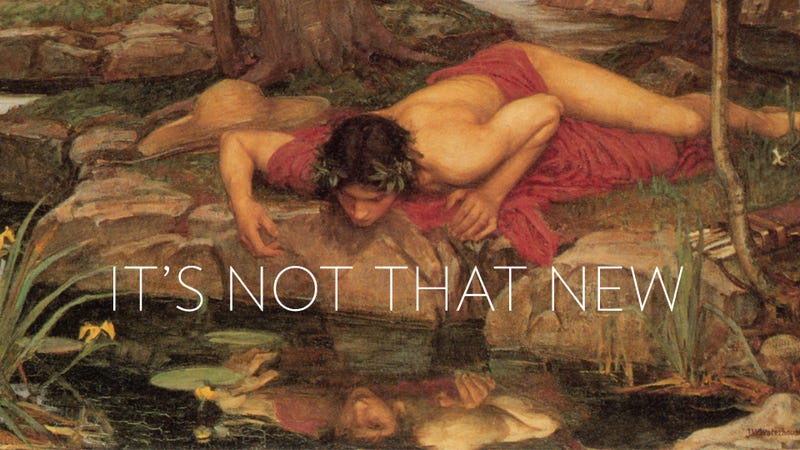 Girls aren't the only ones who unhealthily obsess over their bodies. New research reveals that teenage boys are just as plagued by impossible "beauty" standards when it comes to body image, and are perhaps damaging their health trying to attain physical perfection. First of all, welcome to the club, boys! Secondly, haven't you been here for a while now?
Researchers at the University of Minnesota School of Medicine wondered if "increasingly muscular" media images and the availability of supplements affected the "muscle-enhancing" behavior of young people. They found out it did, with about 40% of teenage boys using protein powders and 6% of them using steroids.
In reporting on the study, The New York Times treated its findings as an indication of a new trend: boys have problems and are not immune to societal pressures of physical appearance. And it's widespread, with teenage boys supposedly using the tried-and-true girl tactics of sharing their multi-layered, self-imposed mindfucks and thus infecting other children:
On Tumblr and Facebook, teenagers post images of ripped athletes under the heading "fitspo" or "fitspiraton," which are short for "fitness inspiration." The tags are spinoffs of "thinspo" and "thinspiration" pictures and videos, which have been banned from many sites for promoting anorexia.
However, at the time of this writing, searching for "fitspo" on Facebook or Tumblr didn't bring up any results of teenage boys, but instead, posts by teenage girls of the typical "thinspo" variety (paparazzi shots of Nicole Richie, photos of Victoria's Secret models' stomachs, tips on how to not overeat at Thanksgiving, etc.). Also, were we really supposed to buy that teenage boys are aware enough of women's issues to even reference "thinspo" got themselves?
And if this is, indeed, some kind of epidemic, it's not that new. The story of how surprising it is that boys are putting their health and lives at risk because they suffer from body image issues is a trend piece that reappears every few years.
In 2000 it was called "the Adonis complex" after the book that identified the health crisis.
In 2004 "a growing number of teenage boys" were becoming body-obsessed.
In 2006, it was "manorexia."
But also in 2006, "perfect body obsession [was] driving teenagers [to] risk health with steroids."
In 2009, "manorexia" had a bit of a resurgence.