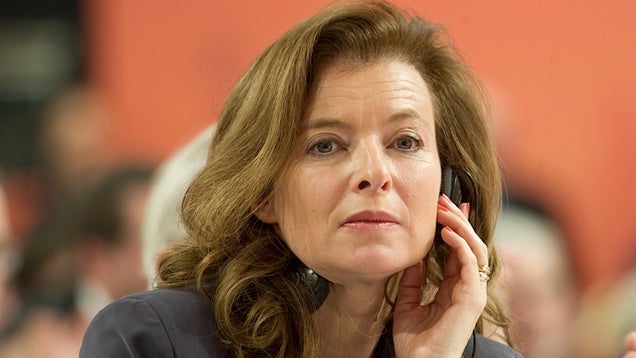 S
France's brand-new first lady and well-known journalist Valérie Trierweiler recently won damages of 2,000 euros from the French celebrity weekly VSD for breaching her privacy and image rights by publishing a cover photo of her sunbathing, building sandcastle scale models of the Châtaeu d'If, bodyboarding, and whatever other beach activities the French ruling class engages in, all while wearing her bikini. (In the photo, Trierweiler's just relaxing next to her partner, Prime Minister François Hollande.)
According to the Telegraph, VSD seems a little bewildered by the judgment, especially considering the fact that publishing photos of French presidential couples is, in the words of the magazine's lawyer, a "harmless tradition." Not only that, but Paris Match, a magazine that still has Trierweiler on its payroll, published the same bikini photos, albeit not on its cover. That has given fuel to French critics of the first lady, who earned some public ire earlier this summer when reports of her ongoing feud with Hollande's former partner Ségolène Royal and her children prompted Hollande to put out a few public relations brushfires. So long as she remains ensconced in the Elysée palace, many observers think that she should be off the payroll at Paris Match.
Trierweiler initially asked for a much steeper penalty of 30,000 euros for photos that she reportedly told her friends made her look "fat." The judge ruled that, since VSD's photos were neither "necessary for legitimate public information," nor "harmless," the magazine did not have a right to paper the French countryside with pictures of the first lady in her bathing suit because bathing suits are stressful enough for most people to put on and walk around in, and the only solace bathing suit-wearers take in promenading or napping half naked on the sand is that everyone around them (except for the guy ambling up and down the dunes with a metal detector) is doing exactly the same thing. It is (or should be) part of the bathing suit social contract that someone who's not wearing a bathing suit is prohibited from scrutinizing someone who is wearing a bathing suit.
Interestingly, however, the court noted how strange it was that Trierweiler visited beaches at Fort de Brégançon before her outing with Hollande in order to figure out which spots were best to be seen by paparazzi, and which spots were best to remain hidden. Trierweiler was offended by VSD's insinuation that she was actively seeking out bikini exposure, but the judge determined that such information was only, after all, the opinion of a gossip columnist.
Valérie Trierweiler wins damages from French magazine over bikini pictures [Telegraph]