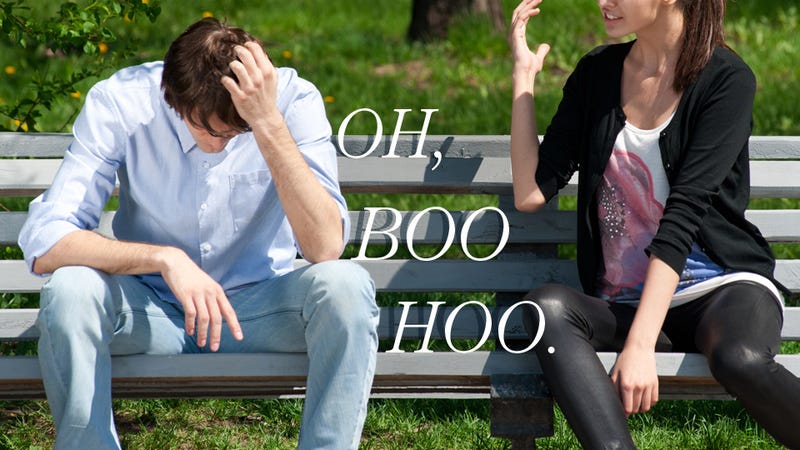 By now, you've probably heard of "gaslighting," the increasingly popular term for the various ways in which men convince women that they're "crazy," "over-reacting," or "hysterical." Gaslighting's goal is simple: Get you to tone down that oh-so-scary lady rage that frightens the menfolk. But there's another kind of gaslighting that's almost as common and which serves the same purpose. Call it the "I'm such an asshole" speech or call it strategic self-deprecation, the end goal is always the same: deflect women's anger.
It's not hard to see the cultural roots of this male self-criticism. We're reminded that the end of men is nigh, or that perhaps (thanks to porn and video games) the demise has already happened. The dominant pop culture trope is that it's never sucked so hard to be a guy.
It isn't clear to what degree young men themselves buy into the idea of men in decline. What is clear — as anyone who has watched a Judd Apatow movie knows — is that we've rarely seen men so quick with the self-deprecation, so willing to acknowledge doubt. There's a lot that's refreshing about that shift towards hyper-aware self-mockery. What's frustrating is that a lot of that self-criticism isn't about copping to a need to change. Rather, this disparagement of men in general and the self in particular has two enduring aims: To lower women's expectations and to defuse women's anger. It's more successful at accomplishing the former.
In the past week, the epic discussion online and in real life about Ann-Marie Slaughter's "having it all" article has shifted to the question of how men might better step up to help women achieve a better work/life balance. Men aren't pulling their weight, as new data about housework in dual career families makes clear. Though younger dudes today may have a better vocabulary for feelings than their dads did, that doesn't mean that they're any better prepared to respond to statistical reality. As Lindy West wrote last week :