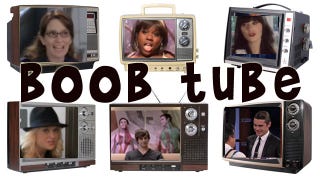 In this week's TV roundup, Jack is being transvaginal on 30 Rock, Zooey Deschanel and Apple products go together like Sundays and brunch, Zac Efron won't rest until he's removed the bras of every last woman in America and Game of Thrones gets another Skins alum.
---
1.) Liz tells Jack to stop being so intrusive and "transvaginal."
Can we make this a colloquialism already?
---
2.) Alex from The Glee Project makes his Glee debut in drag.
Can I make a confession? I could not stand Alex on The Glee Project because he was so mean and melodramatic all of the time. Regardless, he always killed it when he dressed in drag. Remember when he did Effie from Dreamgirls? Pretty fantastic.
Second confession: I watched all of The Glee Project.
---
3.) Wow, Cassie from Skins is now on Game of Thrones.
And she's joined by fellow Skins alum Joe Dempsie (A.K.A. Chris). Man, with these two doing GoT, Dev Patel in the upcoming Aaron Sorkin project Newsroom and Nicholas Hoult off making movies, the first generation is doing pretty well for themselves.
---
4.) Parks and Recreation is back.
We're all in love with Tom['s apartment]. And amenities.
---
5.) Jane Goodall and Jon Stewart hug it out like a couple of chimps.
---
6.) ZAC EFRON HAS SEX. ZAC EFRON HAS SEX.
In case you forgot between all of the red carpet condom dropping and that other time he proved he can take a ladies bra off, everyone would like to make it very clear that Zac Efron more than capable to enter the bone zone.