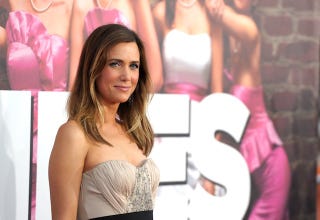 The question at the center of this Times magazine profile of Kristen Wiig is whether someone known for playing excruciatingly irritating characters can carry her own movie. Or more precisely, be "charming," which sounds like a variant on America's sweetheart, only with more slapstick.
No answer is forthcoming (personally, I think I would be more sure in answering yes if the movie were about a quarter shorter, and in any case it's ensemble-driven), but there are some fascinating details about how producer Judd Apatow and director Paul Feig intervened Wiig and best friend Annie Mumolo's script.
Writer Susan Dominus says, "You can pretty much guess which scenes Apatow and Feig added to Wiig and Mumolo's script, beginning with the opening shot: a loud, slapsticky sex scene between Wiig and a cad played by Jon Hamm." (That scene is hilarious. And Jon Hamm is in it). Mumolo tells her that Apatow didn't want any scenes where the characters just "sit and talk." And both writers needed convincing to include a drawn-out, filthy scene that (spoiler) involves food poisoning and lots of poop.
What were Wiig's reservations? She shot a look. "Just that it was a huge scene about women vomiting" and defecating in their pants. "We wrote the script, and we didn't really have anything in that tone, and it seemed to be such a big statement," she says. Apatow assured her that if it did not work, they could cut it. Wiig and Mumolo - a writing partner from her Groundlings days - ultimately agreed that it did work.
As these things go, adding more poop and more sex seems like a reasonable compromise, though it's not clear whether these changes were made to make things funnier or to make them more marketbale. As I've mentioned, I saw the movie with a bunch of female comedians, including Jamie Denbo and Jessica Chaffin, whose comedy pilot had been directed by Feig, and who were warmly greeted by Wiig backstage. Afterward, Denbo praised that very gross-out scene for its sheer daring, hilariousness, and break with the girl-movie cliche. (Of course, "pretty girls being gross" is its own genre cliche, but this takes it to an unseen level.)