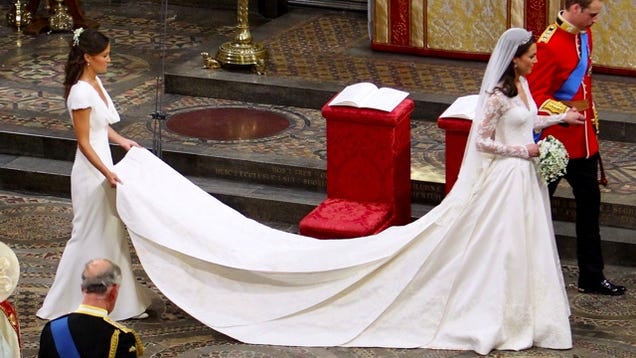 The instant critical response to Kate Middleton's very restrained and elegant lace Alexander McQueen wedding dress ranges from positive to outright raving. Put Hilary Alexander at the Telegraph on the over-the-moon end of the spectrum: "Middleton stepped out of the vintage Rolls Royce Phantom VI and into the pages of royal and fashion history. Fabulous, fashionable and fairytale, the dress was fit for a queen-to-be and combined the style of a modern princess with that of a 20th Century princess, namely Grace Kelly." American Vogue's Sarah Mower also drew a connection to Grace Kelly's wedding dress, but called Middleton's "an exquisitely modern example of a personal collaboration between a bride and her designer...Technically faultless in its scale and construction, the dress allowed the bride to move with ease, carrying all the weight of British history and expectation without the slightest wrinkle or hitch." See, the train had to be long, because it was full of hopes and dreams. Robin Givhan at the Daily Beast saw something sour in those same great expectations, writing that the dress was "destined, doomed to be a disappointment — if only because so much was expected of it." But fundamentally, she says, "It was a dignified acknowledgement of Arts and Crafts tradition but bore the streamlined, body-enhancing silhouette of contemporary fashion." (Givhan was cribbing pretty obviously from Clarence House's own press release, which said Middleton's chosen dress "pays tribute to the Arts and Crafts tradition…Ms. Burton's design draws on this heritage, giving the cut and the intricate embellishment a distinctive, contemporary and feminine character.") [Telegraph, Vogue, TDB]
Among designers, reactions are also positive. "The dress is classic and goes very well in the Westminster decor," says Karl Lagerfeld. "It almost reminds me of (Queen) Elizabeth's wedding, the royal weddings in the Fifties. The proportion of the train is good. The lace is very pretty. I like the veil a lot." Christian Lacroix called the dress "simpler than expected: A combination just in between 1956 Grace Kelly and 1947 Queen Elizabeth dress." He added, "Prince William's red Irish uniform is gorgeous." Hubert de Givenchy: "The dress is very simple and very nice. The veil is a little flat, but because she has such a lovely face, she can afford to wear it this way." Donatella Versace: "very regal." Ann-Sofie Johansson of H&M: "The lace together with the long sleeves really showed the craftsmanship and hours of work that has gone into creating a dress like this." Valentino: "Compared to the famous Diana's dress, Diana's was a dress of a fairytale princess.. still a dress everybody remembers.. Kate's one is a very pretty, modern dress that will be copied everywhere but lacks that fairytale element. Today most of the new princesses are young, modern, non-royal women who have clear ideas, independence from stiff protocol.. they want to be themselves and not anymore a symbol of the crown." Rumors sprouted that McQueen was the maker of the dress after Sarah Burton was spotted ducking into Kate Middleton's hotel yesterday afternoon. Although she was wearing an enormous parka with a fur-lined hat to obscure her face, Burton was identified by journalists who recognized her distinctively buckled belt and shoes. (Pulitzers for that lot.) [WWD, Fashionologie]
Coco Rocha liked the finished product so much that she just predicted Sarah Burton would be named the new creative director of Christian Dior. Bernard Arnault, the head of Dior's parent company, had been rumored to be waiting to see if Burton indeed was designing Middleton's dress before making his final decision. [@cocorocha]
The dress featured extensive hand-done Carrickmacross lace, a style of lace-making that was developed in Ireland in the 1820s. The body of the dress was lace-appliquéd silk gazar, a fabric invented by the house of Abraham at the behest of Cristóbal Balenciaga, who desired a silk that could hold its form with quasi-architectural crispness. The dress closed with 58 — count them! — organza-covered buttons. Sarah Burton said in a statement, "It has been the experience of a lifetime to work with Catherine Middleton to create her wedding dress, and I have enjoyed every moment of it. It was such an incredible honor to be asked, and I am so proud of what we and the Alexander McQueen team have created. I am delighted that the dress represents the best of British craftsmanship." It is pretty funny that Alexander McQueen ended up with this commission, because McQueen's own thoughts on the monarchy were far less conciliatory than those Burton will own publicly. When McQueen was an apprentice at Savile Row tailors Gieves & Hawkes, which makes Prince Charles' clothing, McQueen pad-stitched "I am a cunt" onto the interlining of one of His Royal Highness' jackets. [WWD]
Kate Middleton did her own makeup for the wedding. The makeup artist who tended to Chelsea Clinton on the day of her nuptials thinks Middleton "did a good job." [Style.com]
Maybe you care about Princess Michael of Kent's dyed-to-match shoes? We, um, don't. [NYPost]
Joan Rivers on the wedding: "It's very exciting. I sent them a George Foreman grill. I think they'll like it. I would like to see them on the royal balcony grilling." [Fashionista]
---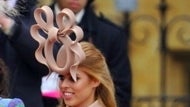 Princess Beatrice
's very tall Philip Treacy fascinator made this roundup of the best royal wedding hats. (Have you
made your fascinator
yet? We are wearing ours and feeling ever so slightly royal!) The opinion is not universal: this morning,
Marie Claire
editor-in-chief
Joanna Coles
said the hat made Beatrice look as though she was
"being attacked by snakes from above."
[
Buzzfeed
,
WNYC
]
---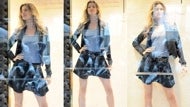 Gisele Bündchen
hung out in the window of a
C&A
store, because she is the face of the fast-fashion chain. [
Quem
]
---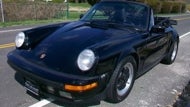 Got $25,000?
Calvin Klein
is selling his
'85 Porsche 911
2-door cabriolet on eBay. Only 59,000 miles. [
eBay
]
---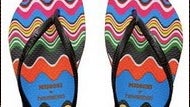 Missoni
's random collaboration with
Havaianas
has given us
$130 flip-flops
. [
Racked
]
---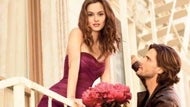 Leighton Meester
danced and sang to herself while shooting this new ad for
Vera Wang
perfume. [
WWD
]
---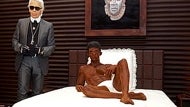 Karl Lagerfeld
, who as we all know doesn't eat sugar, nonetheless designed a hotel room made of chocolate for his promotional deal with the ice cream brand Magnum. The room comes with a resident: a
a milk-chocolate statue of Karl's favorite, Baptiste Giabiconi
. His underwear is white chocolate. [
Boing Boing
]
---
Roll up, roll up for quotes from Isaac Mizrahi, on pedicures, the meaning(lessness) of existence, and charity. First, feet: "Even in the winter, I can't stand to look down unless my toes are done. And I can stand to look at a lot of ugly things on my body, obviously, but I can't stand it if my toes are not good. I can stand to be like, 15 pounds overweight, but I can't stand when my toes are bad." And now, his charity of choice, Good Shepherd Services: "I got involved because of my shrink, where a lot of things begin with me actually. I told them, 'My life has no meaning, basically.' He was like, 'Here's this phone number for you to call.' I called Good Shepherds. I met this young lady named Ashley, and I've been mentor to her for about eight years. And now my life has meaning. Seriously." [The Cut]
There is now Dungeons & Dragons perfume. Someone call Paul LaFarge! Except, as one player notes, "if I was hitting on a girl at a bar and she complimented me on my scent, I wouldn't want to tell her that I'm a Level 15 assassin." [Allure]
Leifsdottir, which was launched for fall of 2008 as a wholesale brand owned by Anthropologie's and Urban Outfitters' parent company, is being taken in-house. It will only be sold at Anthropologie stores beginning this fall. Retailers that had carried it, including Saks, Nordstrom, and Bergdorf Goodman, will not get any deliveries of stock past this spring. [WWD]