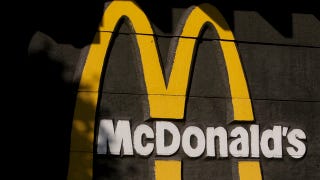 Last week, four people were injured after a fight broke out during a hiring event at a local McDonald's. And at another McDonald's location, a trans woman was beaten until she had a seizure. What is it about McDonald's that makes people want to beat each other up?
October 2010
A fight involving as many as 70 people broke out at a McDonald's near San Francisco's AT&T Park after the 2010 World Series. The enterprising cameraman who put it on YouTube recounts the action thus:
This was taken at the McDonald's right next to AT&T park. Some chick was arguing about their order, the chick with the yellow thong tells her, she shouldn't talk like that in front of her daughter. Chick says she's not my daughter and throws soda at the yellow thong chick. then all hell breaks loose.
March 2011
This video, uploaded in March, shows a group of teenage boys slugging it out in a McDonald's while employees ineffectually try to intervene. I'm not completely sure it isn't staged.
April 18, 2011
In this upsetting video, which appeared last week on several websites, a young woman is beaten by several other women until she begins to seize. The victim, 22-year-old Chrissy Lee Polis, has come forward, saying she was attacked in part because she is transgender. A McDonald's employee who filmed the assault and apparently did nothing to help has been fired, and Polis says she's considering suing the company.