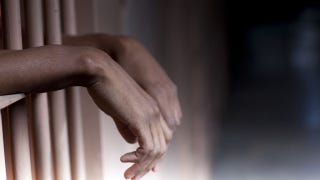 California prisons are already required to provide hormone therapy to inmates who were taking them when they were incarcerated, but now Lyralisa Stevens, who was born male but lives as a woman, is suing to make the state pay for a sex change operation while she serves her prison sentence.
Stevens is serving 50 years to live for killing a woman with a shotgun during a fight over clothes, according to The L.A. Times. Since her incarceration in 2003, she has been taking female hormones provided by the state. Now in a case before the 1st District Court of Appeal in San Francisco, she argues that the state should pay for the removal of her penis and testicles, partly to protect her from rape by male inmates by allowing her to transfer to a women's prison.
Previously, we've discussed the hardships transgendered inmates experience. Currently prisoners are placed in facilities according to their genitals. In the past decade many transsexual prisoners challenged this policy, leading UC Irvine to study the issue. Researchers found 59% of transgender inmates have been raped or sexually assaulted, compared to 4% of the general prison population.