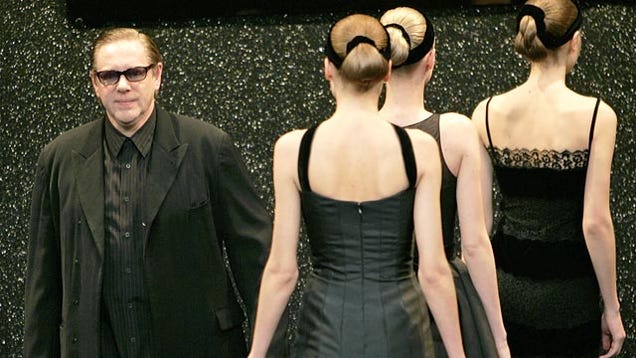 Hervé Leger says today's models suck because they are too thin. "If I had to go back to catwalk presentations I would be in a panic," he admitted. "Already the models I find are too skinny, too sad. And I knew the age of the super top models, Linda Evangelista and Cindy Crawford, who were always lively and smiling. Today you go between several défilés and you will see the exact same type of girl — it just doesn't inspire me." Leger lost control of his eponymous label in 1999 (it is now designed by Max Azria, who seems not to share Leger's low opinion of skinny 14-year-olds). Leger founded a new line (weirdly we only have heard of it in the context of an ANTM challenge) called Hervé L. Leroux in 2000. [Vogue UK]
---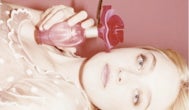 This
might
be a leaked picture of
Dakota Fanning
in a
Marc Jacobs
perfume campaign. [
Fashionista
]
---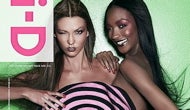 Karlie Kloss
,
Jourdan Dunn
, and one strategically placed hat share the new cover of
i-D
. (Kloss turned 18 last August; Dunn is 20.) Inside,
Dunn tells the magazine that she is no longer with the father of her son
, who was
arrested on charges of dealing cocaine
shortly after she gave birth. "Last year was a tough year for me," says Dunn. "I went through a lot with my personal life but thank goodness my Mum was there for me every step of the way.
I'm now not scared of being a single mother.
" Also, her son has
sickle cell disease
. "The hardest thing is not knowing if Riley is just miserable or if he's in pain and having a crisis.
Last December he had his first crisis, and he was submitted to hospital for a blood transfusion. It was the scariest thing.
All I wanted to do was take the pain away… I felt helpless as a mother. But now we have experienced his first crisis we are more prepared and know what to look out for." [
Fashionologie
]
---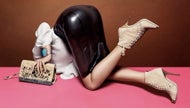 Here is
Crystal Renn
's ass in a
Jimmy Choo
ad. [
TLF
]
---