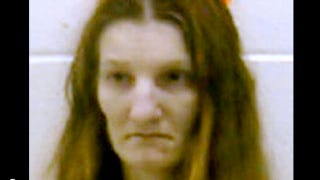 A Maine mom has been convicted of sexually abusing her two-year-old daughter and videotaping it for a young man to watch. She'll get 20 years in jail — a much stiffer sentence than the man.
According to the Bangor Daily News, Julie Carr pleaded guilty last year to molesting her child while video-chatting with an Englishman named Nicholas Wilde, now 20. She said Wilde, who has Asperger's syndrome, "conned" her into perpetrating the abuse — the two met on a dating site, and he apparently "chose" Carr's youngest child for abuse "because she was the cutest." The judge, however, was unconvinced by Carr's defense, saying, "What you have done, Ms. Carr, is violate the most basic bond of society — the bond between a mother and her child, the bond between a mother and her daughter." He sentenced her to 20 years in prison and an additional 10 years of supervised release, during which her computer will be monitored and she'll be barred from using drugs or alcohol.
Wilde, meanwhile, is serving a sentence of four years and eight months for "inciting a mother in the U.S. to abuse her own child" and distributing indecent images. His case is reminiscent of that of Steven Demink, who recently confessed to convincing moms to abuse their kids over the Internet, claiming it was a form of therapy. It's disturbing that even one person, let alone two, has committed this crime — but it's interesting that in Wilde's case, the mother's sentence was much stiffer than his (the moms involved in Demink's case have yet to be sentenced, though one could get 15-30 years).