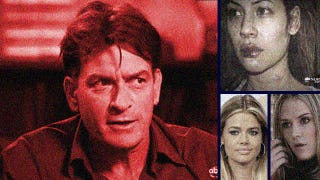 For the past 20 years, Charlie Sheen has allegedly assaulted, threatened, harassed, abused, and—in one incident—shot women.
Although his long history of violence toward women has been reported in the media, it seems to have taken a back seat to the actor's partying, wild lifestyle, and battle with addiction that has been part of the narrative of his bad boy persona that has actually propelled his success rather than hindered it. In fact, a few short months after a rehab stint—on the heels of his Christmas day arrest on domestic violence charges against ex-wife Brooke Mueller—Sheen signed an agreement in May 2010 to return to Two and a Half Men for another two years for a reported $1.8 million per episode. His egregious behavior in his personal life had somehow not affected his standing with the CBS brass—until he called his boss Chuck Lorre a "clown." Apparently, that was just too much.
Following his remarks about Lorre, CBS has shut down production of the hit sitcom, the ratings of which have recently spiked 30 percent. Certainly Sheen has the right to behave however he wants in his off-hours, especially considering that he reportedly does not have a morality clause in his Men contract. But if the show's producers are going to take offense to personal verbal attacks the actor makes about them, why aren't those same producers—as well as the network—offended by his repeated physical attacks against women? Particularly those that have occurred during the eight years he's been on the show?
Sheen maintains that every woman who has made allegations—or taken out restraining orders—against him is lying, despite the fact that he's plead guilty in two court cases regarding domestic abuse. In his 20/20 interview last night with Andrea Canning, he refers to them as "sad trolls," adding that their lies are "silly." Sheen called the accusations of his behavior made by his ex-wife Denise Richards "laughable and inane." And just today, he accused ex-wife Brooke Mueller of being on crack cocaine after she removed their children from his home last night via a court order.
Sheen's m.o. seems to be to invalidate these women's claims by accusing them of being money hungry or fame hungry. It's interesting for him to consider women looking for money, particularly at the end of a relationship with him, as some kind of character flaw, considering his well-known practice of paying women to party with him, as well as his penchant for hookers. According to a recent GQ article, Sheen lost his virginity at 15 to a hooker in Las Vegas whom he paid for with his father's stolen credit card. Kacey Jordan tells GQ of Sheen's obsession with sex workers, "He is unhappy, and he probably relates to the porn girls, thinking they're unhappy, too."