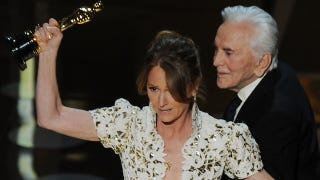 Melissa Leo won Best Supporting Actress last night at the Oscars, despite the backlash from the vaguely baffling ads she took out for herself, and despite what she'd described as her reason for taking them out in the first place: bias against older women. So what happened?
Back when Leo had self-funded the creation and publication of ads that depicted her glammed up alongside the word "Consider," she told Deadline Hollywood Daily that she was frustrated that she couldn't get on the cover of a magazine. "Leo is 50 years old and she attributes the media's lack of interest to ageism," the reporter wrote. Leo was quoted saying, "I did hear a lot of very positive comments, particularly from women of a certain age who happen to act for a living and happen to understand full well the great dilemma and mystery of getting a cover of a magazine."
The oddity of all this is that while there's no question that Hollywood has issues with women who, in the immortal words of Tina Fey, still talk after no one wants to fuck them, Leo was already a frontrunner for her performance in The Fighter. And the ads just made people mock her.