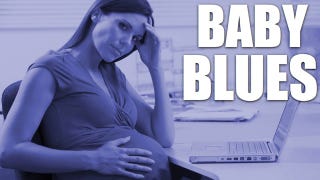 Has this week left you feeling like the government is on a campaign to do you and your lady bits wrong? Well unfortunately, this won't make you feel any better. A Human Rights Watch report released today says that of the 190 countries studied, the United States is one of only three that doesn't guarantee paid maternity leave, Reuters reports. (We're in the same leaky boat as women from Papua New Guinea and Swaziland.)
Janet Walsh, the organization's deputy women's rights director, explains how the country is putting itself at an economic disadvantage by failing to support new parents:
"Countries that have these programs show productivity gains, reduced turnover costs, and health care savings. We can't afford not to guarantee paid family leave under law - especially in these tough economic times."
What about the Family and Medical Leave Act? That does allow employees with newborns to take up to 12 weeks of unpaid leave, but it only covers half of all Americans. For a breakdown of the inadequacies of the law, check out the post "Parental Leave Laws Still Suck." It was written in May 2009, but the law doesn't suck any less today!