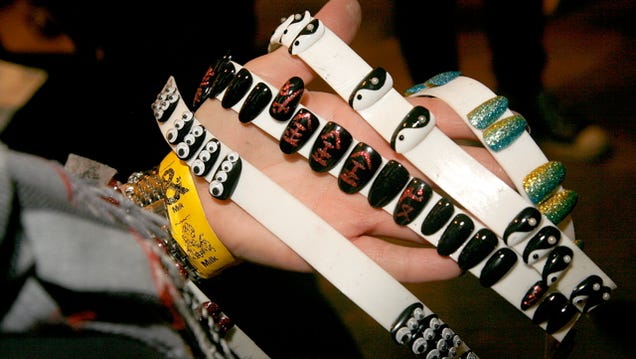 New York fashion week ended last night. But before London fashion week overtakes us, here's a look at some of our favorite shots from behind the scenes. These are just some of the false nails used at the Blonds show. Note the googly eyes.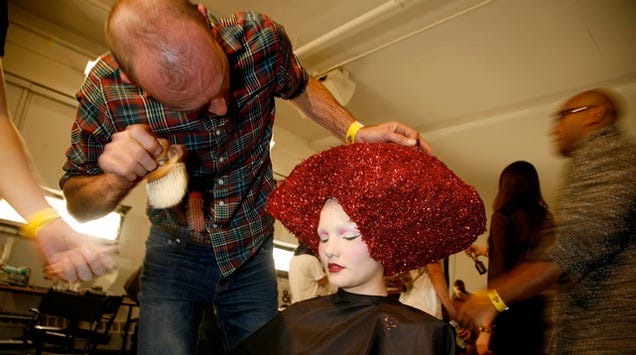 A model in hair and makeup backstage at the Blonds.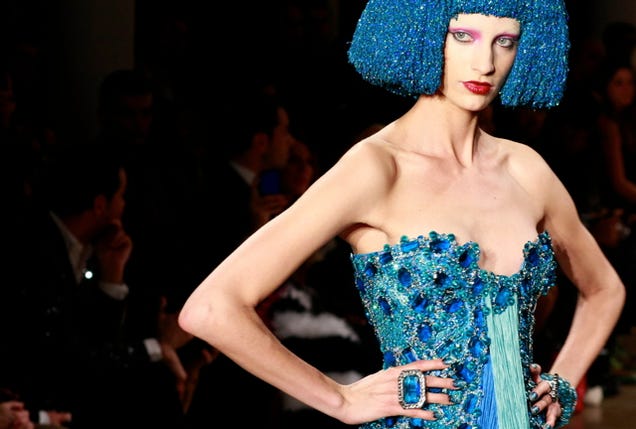 Every girl in the show deposited a little trail of wig-glitter as she walked the runway.
Photo via Billy Farrell
A model in hair and makeup before Halston. (Sarah Jessica Parker was a no-show.)
Jeremy Scott's collection included furry platforms.
And all the models had candy-colored extensions woven through their hair, which was styled in bunches. Except this model, Charlotte Free, whose hair is pink already.
Kanye West sat front-row at Jeremy Scott, next to Vanessa Hudgens.
At the party West hosted with VMan, what was said to be $5,000 in $1 and $2 notes was blown through the air by giant industrial fans. Mixed in were these paper Kanye fun dollars, which most guests ignored.
Photo via Billy Farrell
Kerry Washington, Zoe Saldana, and Kate Bosworth sat front-row at Calvin Klein.
Lara Stone closed the show, making her sole runway appearance of the season.
A model in hair and makeup at Isaac Mizrahi.
Mizrahi's runway show included these poodles.
Gwen Stefani gave 16 out of her L.A.M.B. show's 48 looks to black models. Another eight Asian models were cast. I didn't see a single other show this fashion week with that kind of diversity.
When Kingston ran out onto the runway to take his mother's hand, I actually said, out loud, reflexively, "Awwww!"
Johnny Weir and one of his many Balenciaga motorcycle bags.
A model eating backstage at Lincoln Center.
The Naeem Khan show was really beautiful.
The media riser at Isaac Mizrahi.

All photos via Getty, unless otherwise noted