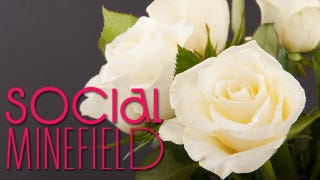 Sadly, most of us will be called upon to attend a funeral at some point in our lives. These occasions can be pretty stressful (what do I say? how do I act?) but our tips will help you get through them.
First of all, just go.
Look, nobody's psyched to attend a funeral. If you were close to the deceased, you're grieving. And if you weren't as close, you may well be worried about how to interact with those who were. You don't want to say the wrong thing or offend them, and also the funeral will force you to think about death and sorrow and all that awful stuff, and it can seem a lot easier just to skip it. Don't.
Of her first funeral, for a former teacher, Deirdre Sullivan writes,
It was worse than I thought it would be: I was the only kid there. When the condolence line deposited me in front of Miss Emerson's shell-shocked parents, I stammered out, "Sorry about all this," and stalked away. But, for that deeply weird expression of sympathy delivered 20 years ago, Miss Emerson's mother still remembers my name and always says hello with tearing eyes.
Even if you barely say anything at all — even if you act like an awkward teenager — the family will be glad you were there. And so will you. (And if you're worried about what to wear, we have tips for that too).