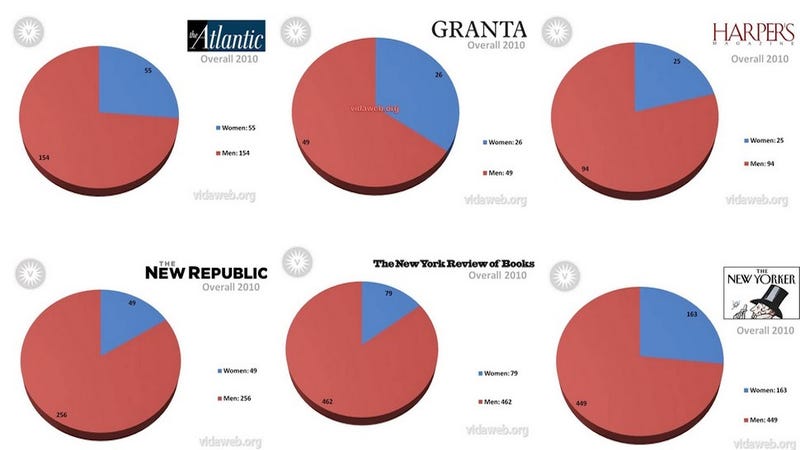 VIDA has counted up the female writers — and female-authored books reviewed at a variety of publications — and these charts detail their dismal results (dudes are in red). So what's behind this inequality?
VIDA, an organization founded "to address the need for female writers of literature to engage in conversations regarding the critical reception of women's creative writing in our current culture," looked at women's participation last year at fourteen major literary and critical publications (a sampling appear above). Women were outnumbered by men in all but one category — the short "Cover to Cover" reviews published by The Atlantic. In response to this gap, VIDA says,
We know women write. We know women read. It's time to begin asking why the 2010 numbers don't reflect those facts with any equity. Many have already begun speculating; more articles and groups are pointing out what our findings suggest: the numbers of articles and reviews simply don't reflect how many women are actually writing.
They're right that the dearth of women at some of literary culture's most influential magazines has been a hot topic of late. No one seems to know, however, exactly why women are underrepresented. Stephen Elliott at The Rumpus wishes VIDA's investigation had gone a little deeper: