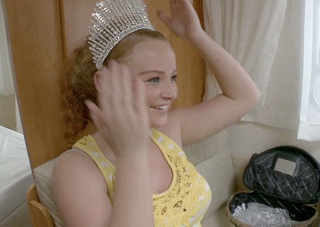 The unfortunately titled reality series is a bonanza of elaborate dresses and culture clash. But how much of it is editing — and how much is still worryingly real?

The show — inspired by a Channel 4 documentary — is a big hit in the UK, and has caused a lot of debate. Episode 3 follows 2 18-year-old traveller brides, and gives us a glimpse of what happens after the wedding. While we question the veracity of the Daily Mail's moral outrage (we thought they liked traditional values!), the direct quotes they run from one bride are food for thought.
One bride-to-be Lizzie, who had been taken out of school at 11 to concentrate on doing the housework and looking after her siblings, said: 'I think I'm ready to get married. Your life completely changes. I reckon I'll be okay though. 'We ain't going to be doctors, lawyers or anything. Housewives, that's what we're going to be. I can read if I take my time. If I read quickly I can't. But I think that's enough for travelling girls.'
Now that she is marrying, her 12-year-old sister will leave school to take over housework — to her dismay.
We already talked about the controversial practice of "grabbing" — in which boys literally force kisses from girls — and this episode makes it even less ambiguous. The Mail quotes one teen boy who participates in "grabbing."