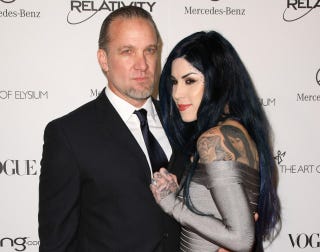 Three-time groom Jesse James now wants to marry Kat Von D after dating her for seven months. Maybe after all these trips down the aisle, he's realized how weddings help distract people from what a creep you've been.
And what a creep he's been: Some of James's 2010 highlights, you might remember, include a cheating scandal, a divorce from Sanda Bullock, and Nazi photos. Who wouldn't want to put all that bad press and toxic drama behind them? With a new bride, James can promote the appearance of new beginnings and personal change. "I fell in love with my best friend,'' he told People. Von D is "an amazing woman who stood behind me when the world turned their backs.''
Maybe James just couldn't find sufficient post-divorce support after getting divorced from Bullock, and marriage is the next-best thing? He did seek help for his personal issues, but apparently didn't get around to getting to the bottom of why he's already been married and divorced three times in rapid succession (Karla James from 1991 to 2002, Janine Lindemulder from 2002-2004, and Bullock from 2005 to 2010). If he had come up with some answers to that question, it's unlikely he'd want to be getting married so soon. He'd want to protect Kat and value her by taking things slow, so as not to rush the relationship. Not that she can't think for herself, but Kat seems to have a bit of the serial relationship seeker in her as well. She may be James "best friend," but as such—and as the woman in love with him—she's not going to be very objective about how some of his issues played out.