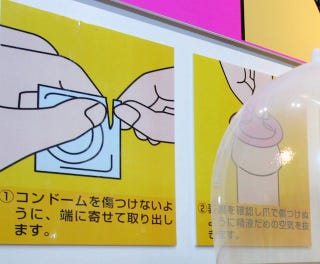 A new study purports to show that Japanese people are increasingly uninterested in sex. And people seem especially concerned about undersexed young men.
The Wall Street Journal reports on the study by the Japan Family Planning Association, which apparently found that 36% of male teens aged 16-19 were "indifferent or averse to sex." Sex studies that rely on self-reports can be problematic — it's hard to tell if respondents are being totally honest, and answers can be influenced by a question's wording — but the percentage of sex-averse guys was up 19% since the same study was done in 2008, suggesting a possible trend. And although a full 59% of female teens in the same age group reported disinterest in sex, the focus appears to be on the dudes.
The Journal's thoughtful headline for the piece is "No Sex, Please, We're Young Japanese Men," and Kunio Kitamura, head of the Japan Family Planning Association, says, "A comparison of the 2008 and 2010 findings show that men indeed have become 'herbivores.'" Japanese opinionators have been discussing "herbivore men" — guys who are supposedly more interested in fashion than in sex or money — for several years now, and non-Japanese publications like the Times of London have reported on the so-called trend. But young women's disinterest in sex — though also apparently rising, by 12% since 2008 — hasn't motivated nearly as many headlines, at least in English-language media. Obviously I'm looking at things through an American lens here, but this seems like another instance of the old stereotype that girls aren't supposed to want to fuck anyway. But if guys start saying no, there's a problem.