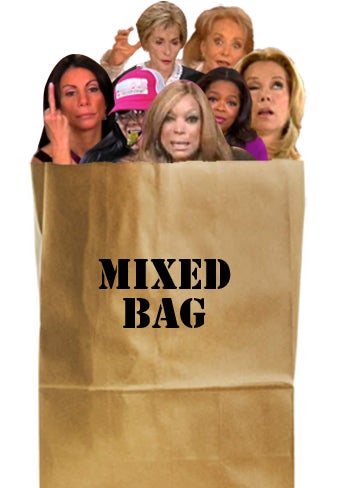 In this week's compilation of pop culture crap, James Franco reveals what his college classmates really think about him, the Kardashians give tips for a "shiny vagina," and Janice Dickinson is still the best thing to happen to reality TV.
1.) "James looks like total shit today."
I don't know how that's even possible, but apparently that's what one of the girls in one of his classes wrote about him in her notebook.



2.) It'll shine like the top of the Chrysler building!
While on Conan this week, the Kardashian sisters were explaining how some of their jokes on Twitter get taken seriously by followers, including one in which they said that they use mayonnaise on their vaginas to make them shiny.



3.) "I'm an all around hot mess."
I'm kind of glad that Janice is getting cleaned up on Celebrity Rehab, because I want her to be around for much longer so that she may entertain me with her antics. But on the other hand, I hope that being sober doesn't take away from the outrageousness that makes her so entertaining to begin with. In that case, it would be like The Gift of the Magi, which I never found all that touching. (Although the lady who cut off her hair for that comb obviously got the better end of the deal, since growing back hair is like no big whoop.)



4.) Dr. Rey is creepy.
He's that plastic surgeon from Dr. 90210 who cuts the arms off his scrubs (which my mother, an R.N., hates and insists is against some kind of regulations). I don't understand how he thought that acting like Willem Dafoe in Shadow of the Vampire would pump up sales of his new foundation garment. P.S. This commercial came on during an episode of Dr. Phil that was all about the show Bridalplasty.