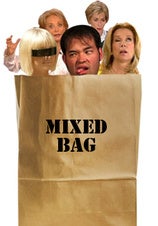 In this week's compilation of pop culture crap, a woman celebrates her 105th birthday at a male strip club, Barbara Walters gets scary, and Chaz Bono opens up about sex reassignment.


1.) 105-year-old celebrates birthday at male revue



Love her. I also love her door-knocker earrings, purple nails, and Baby Phat track suit.

2.) Glassy-eyed Fanilow
Paula Abdul attended a Barry Manilow concert, where Entertainment Tonight caught up with her backstage.



3.) Hailey Glassman
Jon Gosselin's girlfriend was on The Insider this week to discuss how hard it is being famous. In this clip, she pays Kate Gosselin a compliment, then insults her, then goes into detail about when Jon first stuck his ween in her.