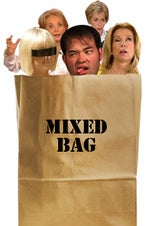 This week's multimedia compilation of pop culture crap features farts, F bombs, our friend Moe Tkacik, and a soap opera's homage to Grey Gardens, among things.


1.) One Life to Live Does Grey Gardens
During a drunken daydream, one character on the soap imagined life as Edie Beale. They did a musical number, and the Costume of the Day speech, although the accent was way off.



2.) Joan Rivers on Live TV
I love that for her publicity tour for her new reality show, she keeps dropping F bombs on live television.