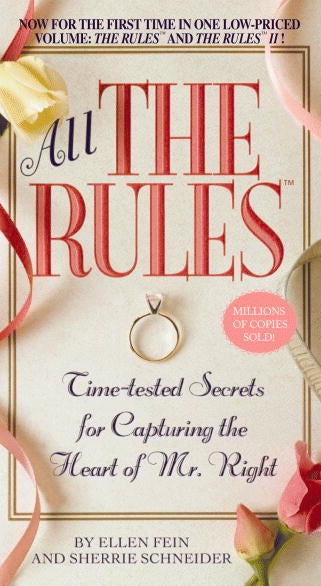 Confession: I've read way too many dating books over the course of my adult life, seemingly compelled by some masochistic need to find out what people think makes for an attractive partner.
Even worse, a few summers ago, when I discovered Booksfree, I was able to quietly indulge my obsession with comparing and contrasting books like never before. As such, I've read books aimed at men and books aimed at women, and while most books aimed at men seek to boost male self-esteem, books aim at women tend to tear it down. I began to wonder - is there a life hack for dating? Is there one common equation that would stand up across all dating books which would led to true love? While I did find a formula, it wasn't about dating - it was how to sell dating books using gender stereotypes: generally speaking, most of them convey three things:



You Don't Have a Man Because You're Fat and Ugly
The terms fat and ugly seem to be used as synonyms in these books, reinforcing the idea that big cannot be beautiful. With the exception of He's Just Not That Into You (which should have been subtitled: We're Going to Repeat This Until You're Hypnotized), most of these books begin by informing us that we aren't good enough as we are. But don't worry! They have a cure.
Ellen Fein and Sherrie Schneider of the All the Rules are the first up to bat. They let you know from the jump that before you find a man, you need to work on you. While the idea of self-improvement sounds good in theory, it becomes clear that they really mean they want us to get a makeover. Asking questions like "Men like women who wear fashionable, sexy clothes in bright colors. Why not please them?" presents the theme for many a guide - men like shiny and pretty. So if we can't catch a man, it's because we aren't fashionable/sexy/cute enough. Other ways to make sure you look your best? They recommend wearing lipstick while jogging.
Patti Stanger of Bravo's Millionaire Matchmaker gets in on the action in her book Becoming Your Own Matchmaker: Eight Steps to Attracting Your Perfect Mate. She takes the cease and desist fatness edict farther, running with:
"Jenna is a perfect example of a woman mired in bitterness. She's about twenty pounds overweight and refuses to change her eating habits. "Most men are pigs, because they only focus on the physical. I'm looking for an enlightened guy who will love me for me and doesn't care about what kind of shape I'm in. Until I find him, the rest can go to hell," she says. Guess what? She's never going to find him. He doesn't exist. And even if he did, he would be thrown off by her me-against-the-world attitude."
Stanger continues:
"With men, it's all about the packaging – one look is all it takes for them to decide if you're a keeper or if you should be tossed back. This might be crude, but they're measuring your "fuckability factor." […] No matter how beautiful you are on the inside, if the outside doesn't reflect it, you're going to spend the rest of your days alone." (p. 51)
Men are shallow fuckers. Deal with it ladies! The right answer here is NOT to find a guy that loves you for who you are, but to raise your "fuckability factor" to attract the ones who will dump you if you gain five pounds. Nice!
However, unlike the women of the Rules, Stanger suggests there is hope for us poor fatties (which, in dating guide parlance means anyone with any visible fat whatsoever):
"I'd suggest moving to another city where the numbers are still in your favor, and where they're more forgiving of physical imperfection.. A woman who is fifteen pounds overweight can throw on the sweats, put on some blush, and she'll be considered ravishing in Chicago. She'll have a date every night in Minneapolis or Seattle, but she'll sit home alone for months in LA."
Fat girls, flee to other locales, where the men are less picky. I'm surprised they didn't bring up Alaska as a sure thing. She also spends a few moments on the virtures of shapewear, implying that if you can't make it, fake it. Ladies, this is a war, and Spanx is our camo. Use it until those lipglossed jogging sessions pay off.

You Don't Have a Man Because You Want a Career
Many books also admonish us for daring to go to work - we have the nerve to be confident and accomplished, and men are not going for that, not one little bit. Did we really think men would like a woman who can pay for her own things? Pssh...ournaïveté is showing . Rachel Greenwald, author of Why He Didn't Call You Back: 1,000 Guys Reveal What They Really Thought About You After Your Date sums up the issue in one line: