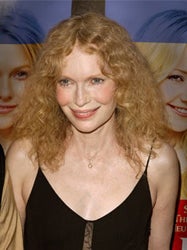 Conscientious readers of the HuffPo will be aware that Mia Farrow has embarked upon a 21-day hunger strike to draw attention to Darfur. Conscientious viewers of YouTube will be more familiar with "Cop Tasers Child!!!"
The goal of Farrow's strike, which she began 10 days ago in Connecticut, is to encourage President Obama to intervene in Sudan, which expelled all humanitarian aid agencies from the country in March. In addition to the blogging, Farrow's been doing a ton of press to promote coverage of the Darfur situation.

Mia Farrow Blogs Her Hunger Strike [NY Times]

My Hunger Strike for Darfur [Huffington Post]
Mia Farrow Channel [YouTube]
Mia Farrow.org
Earlier: Emma Thompson: Celebrities + Charities = "Causeweariness"