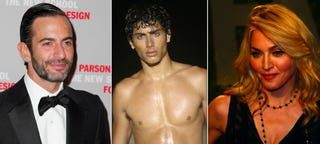 Madonna, her Brazilian lover Jesus Luz, and Marc Jacobs certainly kicked up quite the international media storm last week, as competing allegations about Luz's immigration and work status ate up column inches in every tabloid.
First, last Monday, The New York Post's Page Six gossip column reported that Marc Jacobs had written a letter to U.S. immigration authorities supporting Luz's application for a work visa that would allow him to remain in the country legally, and continue seeing Madonna. Alleged a tipster, Jacobs wrote that Luz was "highly talented" and "a necessity to the label." A client brand making such an overture to immigration on behalf of a foreign model isn't at all unusual, if in fact a business relationship exists between the model and the brand.
Nonetheless, at the time, Madonna's rep denied the singer had asked her designer friend to pull any strings. (But this is the same woman who said in 2006 that Madonna wasn't adopting a baby in Malawi, and in 2008 that Madonna and Guy Ritchie had no plans to divorce.) Marc Jacobs' own PR representative — likely Kate Waters, who has herself been less than forthcoming in the past — also rubbished the report that Jacobs had written any such letter.