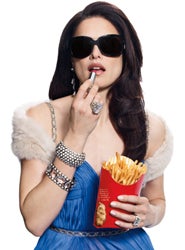 Inquiring minds want to know: what are hedge fund wives wearing in the long morning after that is reality!!!???
Having been shamed, pilloried, mocked, rich guys' wives are rallying. Some are cashing in. Some are confessing. And all of them are dressing for a new world.

Writing about her book tour for the upcoming Hedge Fund Wives, Tatiana Boncampagni, in this weekend's Financial Times, says, "Most of the women I know whose husbands or boyfriends work in the industry have become sudden acolytes of internet shopping and J Crew; and black blazers, white blouses, and two-toned ballet flats are proliferating. Think Michelle Obama, minus the Thakoon."