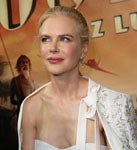 Is Nicole Kidman thinking of
quitting showbiz?
The
Australia
star says, "In terms of my future as an actor and stuff, I don't know. I mean, I'm in a place in my life where I've had some great opportunities – but I may just choose to have some more children." Maybe she just wants to be able to move her eyebrows again! • Aw! Jennifer Esposito is saying some
very sweet things
about
Samantha Who
costar and breast cancer survivor Christina Applegate. "She's a huge inspiration…She never stopped once to say, feel sorry for me. She doesn't look down and doesn't look to the side. She just looks forward and keeps going," J. Esp says. • Michael Jackson is reportedly
"too sick"
to travel to London to testify in a lawsuit against him by a Bahrain sheik. Jackson allegedly owes the sheik $7 million dollars after he "reneged on a contract for an album, a candid autobiography and a stage play," the
AP
reports. Damn, he is such a sad case. [
People
,
People
,
AP
]