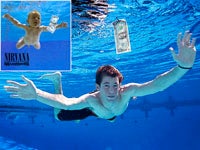 The naked baby who was on the cover of Nirvana's iconic
Nevermind
album? Um, he's
17 now,
recreating the cover shoot, and saying naughty things in lame attempts to pick up girls like "You want to see my penis ... again?" Suave! • John Mayer says he's not going to be
playful with the paparazzi anymore.
"Things have changed a bit, and the decision to slide on and off your radar isn't so much my own anymore. But I'm too young to stomp my feet about it," Mayer says. • Those
Jackass
boys never stop being,
well, jackasses.
Bam Margera was filmed all drunkpants rolling around in a parking lot last night in L.A. [
EW
,
People
,
TMZ
]