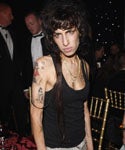 Word on the street is that Amy Winehouse has
scrapped
the tracks she recorded for her third album. Her trajectory continues to hurtle along on a tragic course. • Remember when we told you last week that Terrence Howard was replaced by Don Cheadle in the
Iron Man
sequel? Well apparently it was
news to Terrence, as well.
The noted baby wipe enthusiast said he learned he was being replaced by reading it
Variety
. "There was no explanation... I read something in the trades implicating that it was about money or something, but apparently the contracts that we write and sign aren't worth the paper that they're printed on," he said during an NPR interview. • Madonna's Anglophile period is
officially over.
A source tells
People
that Madge wants to raise her kids back in her old New York stomping ground. [
Blackbook
.
NYM
,
People
]